Report from North America
Dark colours and strong texture the choice of US
buyers of flooring
The World Flooring Association has released a summary
of trends in flooring design in 2014 and beyond. The
North American market for hardwood flooring has been
dominated by darker colours for many years now, but light
colours are making a comeback.

The main wood species with natural light colours sold are
white oak, maple and (slightly darker) walnut. Sunbleached
and light greyish tones are popular.

The texture of wood flooring is becoming almost as
important as the colour. Distressed, weathered, wirebrushed
and hand-scraped are the most common textures,
with hand-scraped being the most costly.

Reclaimed wood from industrial or commercial buildings
often shows unusual texture. Reclaimed wood is marketed
as environmentally friendly because of the reuse of
material. Prices are high and luxury homes are the main
market.

Strand-woven bamboo flooring of growing popular
Bamboo has enjoyed widespread popularity for some time
now. Low cost, hardness and attractive looks have
contributed to the success of bamboo flooring.

The range of colours and textures has increased in recent
years. Strand-woven bamboo is becoming popular because
it is even harder than traditional bamboo flooring and it
has a different texture.
Bamboo flooring is still widely regarded as a "green"
material choice among North American consumers,
although recent reports published in the US show
environmental problems in bamboo growing areas. Thirdparty
certification of bamboo has been recommended by
environmental groups.

Wide board bamboo flooring is becoming more widely
available, following the trend in hardwood flooring
towards wider and longer widths.

Wide, matt finished flooring dominating the market
Wide plank wood flooring has become common and this
trend is expected to continue. Wider widths (up to 25 cm)
look more modern and manufacturers offer solid wood
flooring boards up to 3 metres long now.

Buyers are becoming more interested in matte finishes,
which provide a more natural look and show imperfections
less than a glossy finish.

Hard wax and oiled finish floor are becoming more
popular, although they still account for a much smaller
market share than in Europe. The ability to repair and
refinish small areas of the floor is a key advantage of
waxed and oiled wood flooring.

EPA considering easing testing and certification
requirements for laminated products
Wood product manufacturers who make or use composite
wood products had again opportunity to comment on the
proposed rules for formaldehyde emissions from
composite wood products. The input ended May 8, 2014.

The Environmental Protection Agency (EPA) also held a
public meeting for stakeholders who wish to modify the
proposed rules. The most contentious rule affects
laminated products, which includes the lamination of
wood veneer on composite panels.

This would require furniture manufacturers who laminate
purchased panels in-house to test and certify, even though
the panels purchased for lamination had already been
tested.

Wood industry associations support California"s approach
to regulate formaldehyde emissions from laminated
products. Based the industry"s feedback received in the
comment period last year, the EPA is now looking at
reducing testing and certification requirements for
laminated products, especially for small manufacturers.

The new emission rules apply to hardwood plywood,
particleboard, MDF and finished products containing these
materials. Both imported and domestically produced
products must meet the standards.

For more information about the rules:
http://www.epa.gov/oppt/chemtest/formaldehyde/index.ht
ml

China requests Dispute Settlement Panel for US
antidumping proceedings
China has requested that a Dispute Settlement Panel is
convened under World Trade Organization (WTO) rules to
examine several antidumping investigations by the US
Department of Commerce.

China alleges that the Department of Commerce did not
follow WTO obligations in its rulings on several products
imported from China.

Multilayer wood flooring and wooden bedroom furniture
are among the products that the US investigated for
antidumping.

China challenges the Department of Commerce"s
methodology in three aspects with respect to imported
wood flooring and bedroom furniture imported from
China:

1. The use of "single rate presumption for non-market
economies"
2. "NME-wide methodology" which includes according to
China"s challenge, the failure to request information, the
failure to provide rights of defense, and recourse to facts
available
3. The use of "adverse facts available."
Comments regarding the issues raised by China can be
submitted to the US government at www.regulations.gov
(docket number USTR-2014-0001).

Hardwood plywood imports from Indonesia up in
February
US imports of hardwood plywood increased by 4% to
240,723 cu.m in February. However, hardwood plywood
imports were 10% lower year-to-date than in February
2013.

Hardwood plywood imports from China fell by 11% from
January to 121,960 cu.m. Imports from Ecuador and
Russia also declined in February, while shipments from
Indonesia and Canada increased. Imports from Indonesia
more than doubled from January to 48,964 m3.

Moulding imports down except from Malaysia
Hardwood moulding imports were worth US$13.7 million
in February, down 6% from the previous month. China
was the largest supplier at US$4.3 million, down 1% from
January.

Imports from Brazil decreased by 19% from the previous
month to US$2.8 million. Malaysian shipments of
hardwood moulding grew by 31% to US$1.2 million in
February.

Hardwood flooring imports still below 2013 values
Hardwood flooring imports were up by 18% in February,
but year-to-date imports remain lower than in 2013. The
value of total hardwood flooring imports was US$2.8
million in February.

China was the largest hardwood flooring suppliers in
February at US$838,961 (+32%), followed by Indonesia at
US$732,067 (+55%). Imports from Malaysia were worth
US$620,579 (+5%).

Year-to-date, Malaysia is the only major supplier that has
shipped more hardwood flooring to the US in 2014
compared to the previous year.

Assembled flooring imports declined by 22% to US$7.8
million in February. Much of the decline was in lower
imports from China, which fell by 44% to US$3.5 million.
Canadian assembled flooring shipments increased to
US$2.0 million.

China¡¯s furniture shipments to the US fall
US imports of wooden furniture were down 21% in
February. Total imports were worth US$1.01 billion,
slightly lower than in February 2013. However, year-todate
imports are still 6% higher than in 2013.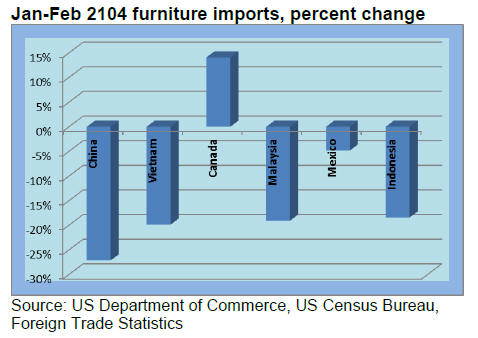 The February import data show a reversal of the situation
in January, when most countries exported more furniture
to the US, with the exception of Canada. In February,
Canada"s furniture shipments to the US recovered, while
other countries shipped less.

China"s furniture shipments to the US fell by 27% to
US$482.5 million in February. Imports from Vietnam
were US$180.2 (-20%). Malaysian and Indonesian
shipments declined to US$47.3 million and US$40.5
million, respectively.

Stronger domestic furniture manufacturing
Both the manufacturing sector and the overall US
economy grew in March, according to the Institute for
Supply Management.

The rate of growth in furniture production increased from
the previous month. The wood products industry reported
a decline in output in March, although demand appears
good. Insufficient hardwood sawnwood supply appears to
be an issue for some companies.

Stubborn unemployment rate undermines confidence
Employment did not improve from February to March.
The unemployment rate remained at 6.7% in March.

The Federal Reserve dropped the statement that
unemployment needs to fall below 6.5% before interest
rates are raised, stating that the unemployment rate on its
own is a poor indicator of the economic recovery.
Interest rate raises have not been ruled out but they appear
unlikely in the near future. The Federal Reserve"s target
interest rate was unchanged near zero in March.

Consumers still unsure about US economy
Consumer confidence in the US economy remained
largely unchanged from January to March, according to
the Thomson Reuters/University of Michigan consumer
sentiment index.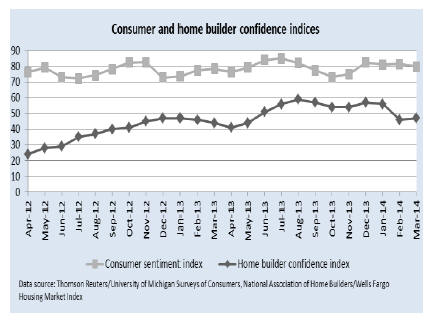 A growing number of Americans expect their personal
financial situation to improve this year. One third of
American expect income gains, more than any other time
since 2009.

However, many consumers worry that there will be
another downturn in the US economy within the next five
years. The slower growth in home prices has also affected
consumer confidence.

Builders concerned about growing labour shortage
Builder confidence in the market for newly built singlefamily
homes rose by one point in March, according to the
National Association of Home Builders.

Usually construction activity increases in spring, but the
index remained below 50 points, which means that more
builders regard the market conditions as poor rather than
good.

Builders remain concerned about the same issues as last
year, primarily the cost and the availability of workers and
building lots.

New home construction unchanged from low January
figures
February housing starts were still affected by the cold
winter weather and new construction was unchanged from
January. Construction started on 907,000 new homes at a
seasonally adjusted annual rate.

The share of single and multi-family housing starts also
remained constant. Single-family homes accounted for
64% of total starts, down from 67% in February 2013.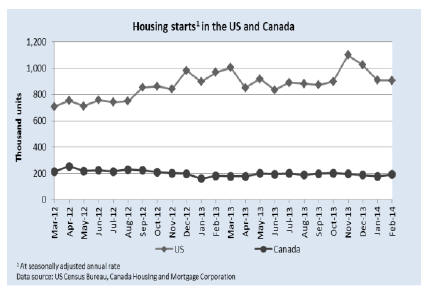 The number of building permits increased by 7.7% to over
1 million units in February (seasonally adjusted annual
rate). The market for new housing is expected to
strengthen in spring, as the number of building permits
issued is an indicator of future building activity.

Tight credit affects homes sales
Sales of existing homes declined further in February,
largely because of weather conditions and higher home
prices. Home prices were 9% higher than in February
2013, but sales were lower than last year.

Tight credit conditions and high personal debt reduce or
delay home buying, especially among young first-time
home buyers.

Canadian multi-family housing starts up in the east
Canadian housing starts increased by 8% in February from
the previous month at a seasonally adjusted annual rate,
according to the Canadian Housing and Mortgage
Corporation. The growth was entirely in multi-family
construction, primarily in Quebec and Atlantic Canada.

Little improvement in non-residential construction
Public spending on construction of offices, commercial,
health care and educational buildings in the US was
unchanged from January to February.

Private spending on non-residential construction increased
slightly (+1.2%) in February, according to US Census
Bureau data.

Architecture firms reported improving conditions in
February, according to the American Institute of
Architects. However, the residential market still
outperforms the construction of commercial, industrial and
institutional buildings.