US Dollar Exchange Rates of 9th May 2014
China Yuan 6.228
Report from China

China¡¯s PMI signals economy steady
Manufacturing activity expanded in April according to the
Chinese government official purchasing managers index
(PMI).

see:
http://www.stats.gov.cn/english/PressRelease/201405/t201
40504_548128.html
This was good news suggesting the economy is beginning
to stabilise. The April 2014 PMI stood at 50.4 supporting
the gradual upward trend seen over the past two. This is
good news on two fronts, it suggests business consider
consumer sentiment to gain strength and it is good news
for employment numbers.
¡¡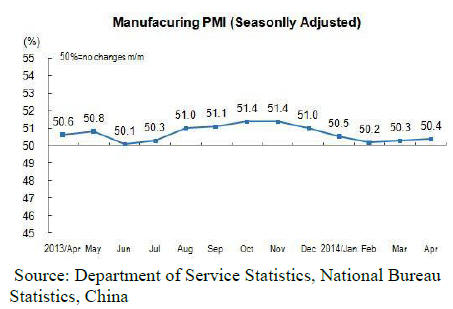 In terms of enterprise size, the PMI of large-sized
enterprises was 50.8 percent, down slightly month-onmonth
but above the negative threshold; that of mediumsized
enterprises was 50.3 percent, up 1.1 points monthon-
month and back into positive territory.

The PMI for small-sized enterprises was 48.8 percent,
down once again and stubbornly in negative territory.

Tamer April inflation as pace of growth slows
Consumer product inflation in April was the tamest for
several months and comes after signs that efforts to slow
the pace of growth are succeeding.

In a press release the National Bureau of Statistics has
reported the April the consumer price index (CPI) rose by
just 1.8 percent year-on-year. Price increases of 1.9
percent were recorded in the urban area while the rise in
rural areas was 1.6 percent.

See:
http://www.stats.gov.cn/english/PressRelease/201405/t201
40512_551594.html

The latest survey indicates that food prices went up by 2.3
percent, while prices for non-food items increased 1.6
percent. On average from January to April, overall
consumer prices were up by 2.2 percent over the same
period of the previous year.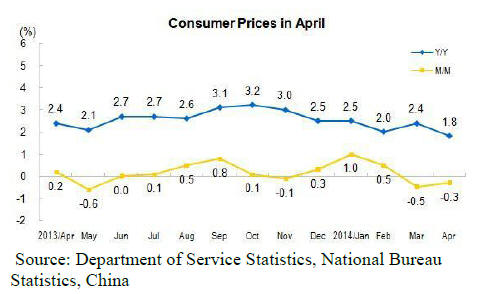 25 million cubic metres of particleboard annually
Currently, production of particleboard in China is mainly
concentrated in Shandong, Hebei, Jilin, Jiangsu, Fujian,
Guangdong and Guangxi provinces. There more than 700
enterprises producing particleboard with an output
capacity of around 25 million cubic metres. Most of
particleboard production lines are Chinese made.
¡¡

Plants utilizing imported production lines mainly found in
Guangdong, Guangxi, Fujian, Jiangsu and Hebei
provinces.

China"s particleboard industry has been developing
rapidly in recent years and output increased to 25.6 million
cubic metres in 2011 from 6.4 million cubic metres in
2003.

In the domestic market particleboard is used mainly for
kitchen, office and bedroom furniture, truck decks,
packaging and, when surfaced, interior decoration
industry. Consumption of particleboard is highest in
Guangdong where 2013 consumption was over 8 million
cubic metres or around a third of the national total.

International trade in particleboard
China"s particleboard imports totalled 381,400 tonnes
valued at US$128 million in 2013, up 8 percent in volume
and 9 percent in value from 2012. The main suppliers were
Germany, New Zealand, Switzerland, Belgium and
Australia.

Particleboard exports totalled 169,800 tonnes, valued at
US$88.36 million in 2013, up 26 percent in volume and 40
percent in value respectively from 2012. The average unit
price for exported particleboard was US$520 per cubic
metre, a year on year increase of 11 percent.

The main markets for China"s particleboard were Russia
(43 000 tonnes), Mongolia (25 800 tonnes) and
Tadzhikistan (19 200 tonnes).

The main provinces of exporting particle board in 2013
were Shandong (65 200 tonnes), Heilongjiang (25 600
tonnes), Inner Mongolia (25 400 tonnes), Xinjiang (20 900
tonnes), Jiangsu (15 400 tonnes), Guangzhou (6 400
tonnes), Zhejiang (2 600 tonnes), Shanghai (2 000 tonnes),
Fujian (1 600 tonnes) and Hubei (1 500 tonnes).
¡¡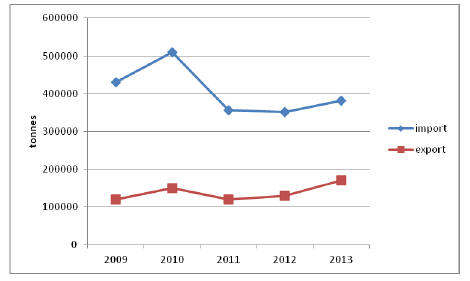 Containerised timber imports up sharply
According to the statistics from Zhangjiagang Entry-Exit
Inspection and Quarantine Bureau, in the first quarter of
2014 containerised timber imports through Zhangjiagang
Port were 67,600 cubic metres valued at US$29 million, a
year on year increase of 94% in volume and 108% in
value. Of the total, nearly 80% were imported logs.

Timber imports through Zhangjiagang in the first quarter
of 2014 were mainly from Gabon (10,493 cubic metres),
Suriname (10,339 cubic metres), Cameroon (9,748 cubic
metres), Myanmar (6680 cubic metres), Mozambique
(8,327 cubic metres) and Central African (4,270 cubic
metres).

Timber price indices
The following indices are prepared by the Ministry of
Commerce and the China Timber and Wood Products
Distribution Association and published in a Chinese
magazine, "China Timber and Wood Products".

For full details see:
http://www.cnwood.org/default.htm
and
http://ltfzs.mofcom.gov.cn/article/buwg/redht/201305/201
30500128380.shtml.

These price indices provided are calculated based on the
CIF price.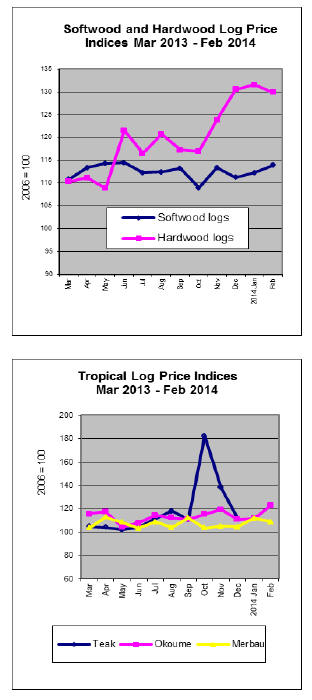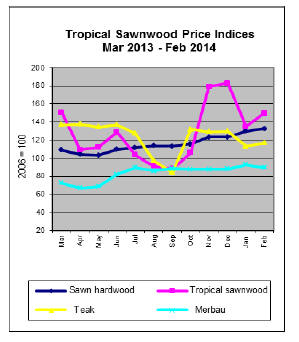 ¡¡