Report from North America
Further declines in tropical sawnwood imports
US sawn hardwood imports in February expanded to
89,414 cu.m , up 43% from the previous month but the
increase was entirely in temperate sawnwood. Tropical
sawnwood imports declined by 2% to 17,030 cu.m in
February. Year-to-date tropical imports are 9% higher than
in February 2013.

Several countries increased tropical sawnwood shipments
to the US market in February, including Malaysia,
Congo/Brazzaville, Ghana and Cote d"Ivoire.

In terms of species, imports of sapelli, acajou d"Afrique,
keruing, jatoba and padauk grew, whileimports of all other
major tropical hardwood species declined.

Malaysian shipments of keruing and red meranti grew in
February to 1,794 cu.m and 381 cu.m, respectively.

Congo/Brazzaville increased its exports of sapelli (2,336
cu.m) to the US. Imports of mahogany (Khaya ivorensis)
from Ghana almost tripled in February to 934 cu.m.

Tropical sawnwood imports from Brazil in February were
2,421 cu.m, down 24% from January. Ipe shipments
declined by 21% to 1,930 cu.m, and US imports of virola
and other tropical species also decreased in February.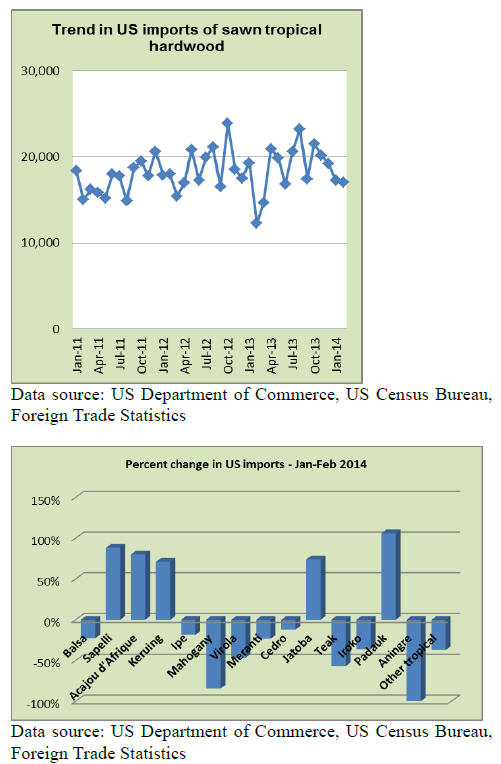 Canadian imports of Brazilian sawnwood drop
Canadian imports of tropical sawn hardwood were
US$1.86 million in February, a drop of 11% from the
previous month.

However, to-date 2014 imports are much higher (+40%)
compared to the same time last year.

The main decline was in imports from Brazil. February
imports from Brazil were only worth US$66,583, a drop of
84% from January.

Tropical sawnwood imports from Ecuador rose to
US$416,600, up 57% from January. Cameroon, Congo
(Zaire), Ghana and Bolivia also increased their sawnwood
exports to the US market.

Imports of mahogany expanded to US$ 141,215 and for
virola, imbuia and balsa the combined value of imports to
Canada totalled US$456,381. Canadian sapelli sawnwood
imports declined in February.

Thermally treated US hardwoods marketed as tropical
hardwood substitute
The American Hardwood Export Council (AHEC) aims to
expand the market and application of American hardwood
species through thermal treatment.

Thermal treatment improves dimensional stability and
improves resistance to decay. Applications for thermally
treated US hardwoods include decking, patios, siding
(cladding), outdoor furniture and interior uses in moist
areas such as bathrooms.

AHEC"s promotional campaign specifically targets
tropical hardwood markets and emphasises sustainability
of supply and good forest management in the US. AHEC
also offers data for most commercial hardwood species for
companies to prepare Environmental Product Declarations
(EPDs).

The lower cost of many US species such as ash, red oak,
tulipwood and soft maple, is an additional selling feature.
AHEC promoted thermally modified hardwoods at the
Dubai WoodShow in April, predicting growing demand in
the Middle East in residential and hospitality projects.

Green initiatives and legislation have increased the use of
wood in construction, according to the Dubai WoodShow
organizers. Supplies of thermally modified American
hardwoods are currently limited, but AHEC hopes that
with growing demand more producers will adopt the
technology.

Middle East markets attract US hardwood shippers
US exports of hardwood sawnwood and veneer to the
Middle East and North Africa were worth US$90.5 million
in 2013, up 5% from 2012. The value of sawn hardwood
increased by 3% and the volume grew by 1% from the
previous year.

US sawn hardwood export volumes to the region are 80%
more than five years ago, mainly due to growing demand
from Pakistan and Turkey. Saudi Arabia, the UAE and
Egypt are also important markets for US hardwoods.

Chemically modified wood products advance in US
market
The market for both thermally and chemically modified
wood products is largest in Europe, but manufacturers are
becoming more active in the US market. Kebony, a
Norwegian producer of wood products modified with
furfuryl alcohol, has recently announced a new distributor
for New York City.

Kebony treats softwood (pine from the US, New Zealand
or Europe) with furfuryl alcohol and markets the product
for enduses where tropical hardwoods are typically used,
such as boardwalks, decking, patios and exterior siding as
well as doors and window frames.

According to the promotional material from Accsys
Technologies, which licenses Accoya production, demand
for acetylated wood is growing" because supplies of
tropical timber are limited or even declining, while global
timber demand is growing".