Japan Wood Products Prices
Dollar Exchange Rates of 25th April 2014
Japan Yen 102.42
Reports From Japan
Tax reform could spur growth
Japan"s Ministry of Economy, Trade and Industry (METI)
has suggested that GDP could grow by an additional
forecast that yen 7 trillion if corporate tax rates are cut by
10 percent from the current level of around 35 percent.

One of the measures being considered by the government
is an overhaul of company taxes to spur growth but the
idea of a reduction in corporate tax is being resisted by the
Ministry of Finance and some members of a tax review
panel.

After surveying some 1,000 leading companies METI
reported that a 10% cut in corporate taxes would improve
competitiveness in the domestic market and would lead to
greater earnings and investment. This may attract back to
Japan some companies which relocated production
overseas.

In contrast, says the METI report, if business taxes are
unchanged then domestic and international sales are likely
to fall.

In Japan the corporate tax comprises both national and
local taxes and, at around 35%, exceeds equivalent taxes
in China by 10%; by 11% in South Korea and a massive
18% in Singapore.

Japanese economy on a moderate recovery path
Japan"s Cabinet Office has released its April assessment of
the state of the economy and is confident the economy is,
in their words "on a moderate recovery path, while some
weak movements are seen lately due to a reaction after a
last-minute rise in demand before a consumption tax
increase."
In summary the press release from the Cabinet Office
notes:

Private consumption exhibited weakness, a
reaction after the last-minute rise in demand
before the 1 April consumption tax increase.

Business investment is picking up.

Exports are flat.

Industrial production is almost flat, a reaction
after the rise in demand before a consumption tax
increase.

Corporate profits are improving and enterprises
judge current business conditions to be broadly
improving but firms are cautious about the
immediate future.

The employment situation is improving steadily.

Consumer prices are rising moderately.

The press release says, although weakness in the economy
will remain in the short term as consumers adjust to the tax
increase, the economy is expected to recover as the effect
gradually lessens.

However, the slowing of overseas demand is still a
downside risk to the Japanese economy.

One of the major problems facing the government is
energy. According to data provided by the Ministry of
Finance, Japan"s trade deficit has quadrupled since April
2012 as imports have increased 17% but exports only grew
by 11%.

The main reason for the increasing trade deficit is because
Japan now needs to imports almost all of its energy
requirements. After the Fukushima nuclear disaster in
March 2011 the Japanese government ordered a shutdown
of almost all nuclear plants in the country pending safety
inspections to new tighter rules.

Business leaders urge agreement on TPP
Despite continuing negotiations even while the leaders of
the US and Japan were meeting no agreement was reached
on the Trans-pacific Partnership (TPP) largely because of
disagreement over the issue of market access for
agricultural products and automobiles.

The TPP is strongly supported by businesses on both sides
of the Pacific and the U.S. Chamber of Commerce, the
Japanese Business Federation (Keidanren), the U.S.-Japan
Business Council (USJBC) and Japan-U.S. Business
Council issued a press statement urging agreement.

The press release notes; "The U.S. and Japan stand to gain
substantially from the establishment of high standard rules
in areas such as intellectual property protection,
investment, SOEs, digital commerce, regulatory coherence
and transparency.

Concluding a strong TPP agreement requires the long-term
vision and commitment of both governments to prioritize
21st Century strategic economic interests that support
trade and investment expansion, job creation, and
innovation. It is important for political leaders in both
countries to focus on the broader economic interests.

Ultimately, this will increase U.S. and Japanese economic
growth, integrate the two economies further, and solidify
the strategic alliance at a critical time."

See: https://www.uschamber.com/press-release/jointstatement-
tpp-us-chamber-commerce-us-japan-businesscouncil-
keidanren-and-japan

Consumer confidence down for fourth month
Japan"s Cabinet Office has released the results of the
March 2014 consumer confidence survey and reports the
consumer confidence index fell to 37.5 in March, down
from the 38.3 in February and the fourth month of
consecutive decline.

For the Cabinet Office consumer confidence survey data
see: http://www.esri.cao.go.jp/en/stat/shouhi/shouhie.
html#data

The latest survey was conducted on March 15th, 2014
around two weeks before the consumption tax was raised.
The survey covered 8,400 households and the response
rate was 67.5%.

The survey assess sentiment in several categories and the
recorded perceptions were as follows; Overall livelihood:
35.0 (down 1.0 from previous month), Income growth:
38.2 (down 0.1 from previous month), Employment:45.9
(down 0.9 from previous month) and Willingness to buy
durable goods:30.8 (down 2.0 from previous month).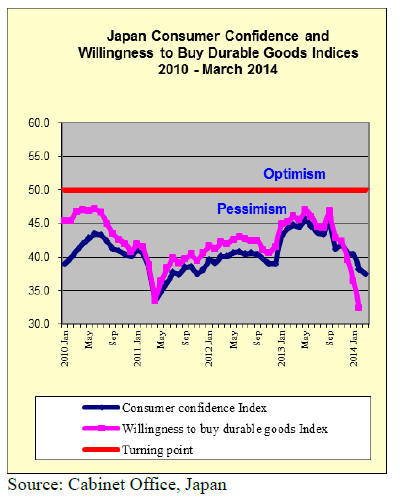 Japan housing starts
The latest figures from Japan"s Ministry of Land,
Infrastructure and Transport shows that first quarter 2014
housing starts fell to 69,400 marking three consecutive
months of decline. The first quarter figures came as no
surprise to analysts who had factored in the impact of the
rise in consumption tax on investment in housing.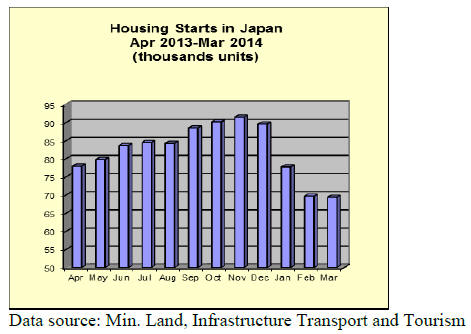 While the consistent decline in housing starts from
December 2013 appears to signal a weakening in demand,
a quarter on quarter comparison with 2012 and 2013
shows that the performance of the housing market in 2014
was actually an improvement as illustrated in the
following graphic.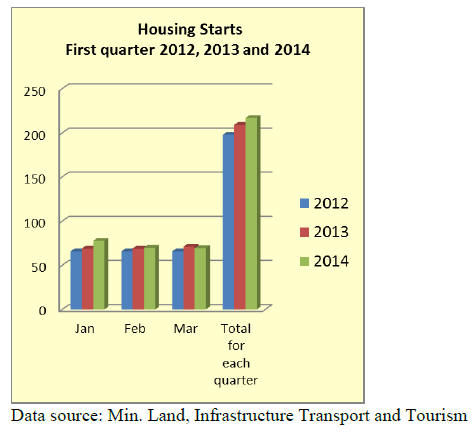 Yen surge short lived
In mid-April the yen strengthened slightly against the
dollar rising to yen 98 to the dollar but subsequently
weakened and stood at yen 102.50 during the latter part of
the month.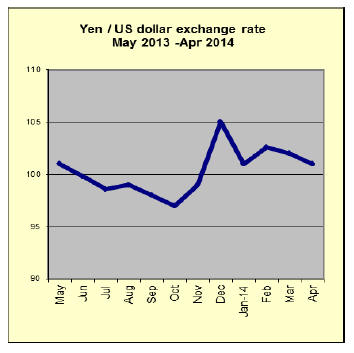 For the JLR report please see:
http://www.nmokuzai.
com/modules/general/index.php?id=7

Imported South Sea hardwood plywood market
Plywood suppliers in South Sea countries are becoming
bullish again. Indonesian suppliers propose sizable price
increase like about $30 per cbm after harvest tax hike
since March with strong currency of Rupiah and high log
prices.

Japanese buyers are now trying to buy more from
Malaysian suppliers but in Sarawak in Malaysia, log prices
are high and once Indonesian prices are up, Malaysian
suppliers are likely to follow suit.

Because of log supply shortage, plywood mills"
production in Malaysia had been slow and delayed until
March and mills carry heavy order balance then log
production started recovering and mills" order balance is
now about a month or a month and half, which is normal.

Future purchases declined since last February as market
future is hard to see with consumption tax increase since
April, which helped reduce mills" order balance. Hot
market in Japan simmered down since late February and
now the market is quiet.

Port inventories are not little but the market prices remain
unchanged. Importers carry order balance with current
market prices and supplying mills are facing higher log
prices so both have no room to reduce the prices.

Importers comment that if May prices would be higher,
they need to accept April offers. Present market prices of
JAS coated concrete forming panel of 3x6 in Tokyo
market are about 1,350 yen per sheet delivered, unchanged
from March.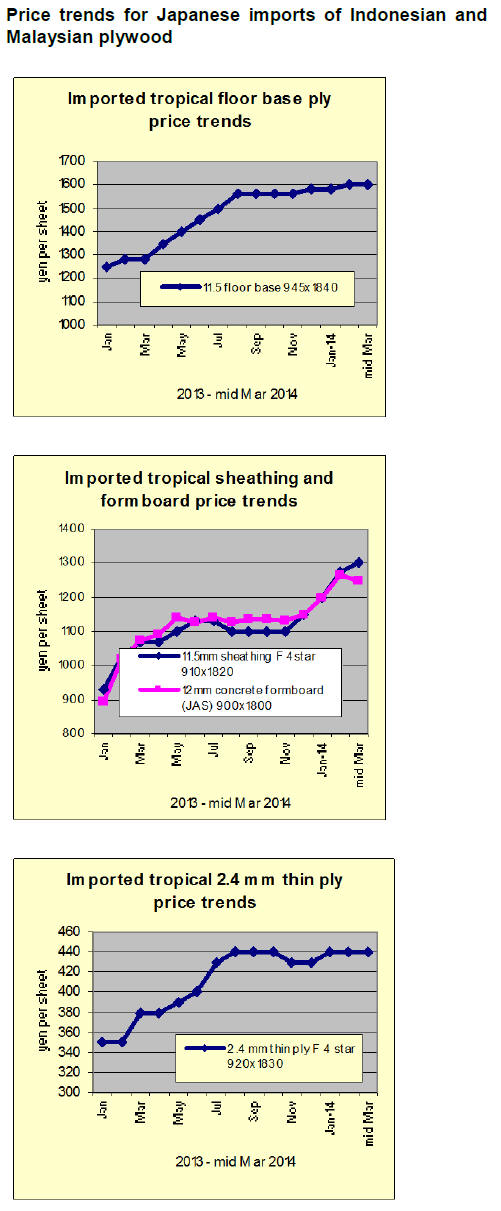 Export log prices are firm
In Sarawak, rainy season was over much earlier than usual
years and dry weather has been lasting for last two month
so that river water level dropped and log towing and
barging become difficult from interior mountain log yard
to log loading ports.

Log inventories at loading ports are down and the
suppliers are bullish and the log prices stay up high. Even
low grade log prices are up.

Low grade meranti prices for India are $270 per cbm FOB,
$5-10 higher than March. April proposals for Japan are
also up by $5-10 at about $300 on meranti regular and
$255 on small meranti, $235 on super small meranti.

In Sabah, after some dry weather, rain started again and
log harvest is hindered but hauling logs from the bush to
the ports in Sabah is mainly by trucks so transportation is
not as bad as Sarawak.

Weather in PNG recovered but heavy rain started in the
Solomon Islands, which flooded the rivers and carried
away bridges. Chinese purchase in PNG is brisk to
supplement shortage of the supply from the Solomon
Islands so that the log prices are very firm. Even
calophyllum for lumber is high in price so there has not
been any arrival into Japan for some time now. Taun is
less costly but the level stays up high and hard to buy.

Oshika establishes Indonesian subsidiary
Oshika Corporation (Tokyo), a major adhesive
manufacturer for wood products, announced to establish
joint venture company in Indonesia for marketing of
adhesive. With this, Oshika will have adhesive
manufacturing and marketing companies both in China
and Indonesia.

Oshika targets overseas sales of three billion yen in five
years. Newly established company is Oshika Indonesia,
which is joint venture with Indonesian adhesive
manufacturer, P.T.Polychemie Asia Pacific Permai.
Oshika has 80% share and Polychemie has 20% share.

Oshika established back in 1995 Poly-Oshika for
manufacturing adhesive with 50/50 investment with
Polychemie and it has been producing adhesives at its
Bogor plant and the products are marketed through
Polychemie.

Now newly established company will market the products
not only in Indonesia but for other markets like Vietnam
and Thailand. Indonesian market of adhesive is for
laminated lumber and free board of rubber wood and
merkusii pine.

Oshika established adhesive manufacturing company
jointly with Chinese company in 2003 then to expand the
market, it established adhesive marketing company in
Dalien, China.

Trends in office, kitchen and bedroom furniture
imports
Japan"s office kitchen and bedroom furniture imports from
2009 to the end of March 2014 are shown below.

Japanese imports of furniture exhibited a cyclical trend
between 2009 and 2012. However, from 2012 bedroom
furniture imports began to increase and have continued
upwards since.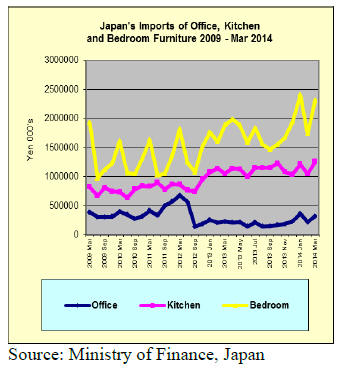 March furniture imports rose after the sharp fall in
February as Japanese furniture companies prepared for the
last minute purchases by consumers wishing to avoid
paying the higher consumption tax of 8% from 1 April
2014.

Office furniture imports (HS 9403.30)
March 2014 imports of office furniture into Japan rose
sharply from yen 217 mil. In February to yen 318 mil., an
increase of 46% month on month.

The three main suppliers accounted for 69% of all office
furniture imports in March 2014. Of interest was the entry
of Vietnam as a small supplier of office furniture. Vietnam
is better known as a supplier of kitchen and bedroom
furniture to Japan but it could be that shipments of office
furniture will expand.

In March Japan"s imports of office furniture from the EU
increased to around 35% of total office furniture imports
significantly up on levels in February.

Kitchen furniture imports (HS 9403.40)
The downward trend in imports of kitchen furniture
extended from February to March. Japan"s kitchen
furniture imports in March were 27% less than a month
earlier.

The big losers were China, down yen 50 mil., Indonesia,
down 30% and Poland, the fifth ranked supplier in
February shipped nothing to Japan in March.

The top three suppliers Vietnam (33%), Indonesia (24%)
and Philippines (16%) accounted for 73% of all kitchen
furniture imports in March. China"s rank in terms of value
of imports for March fell to fourth place, down from the
number one spot in February.

Of the EU suppliers of kitchen furniture to Japan
Germany, once again, shipped a significant value of
kitchen furniture in March and this was valued at yen 57
mil.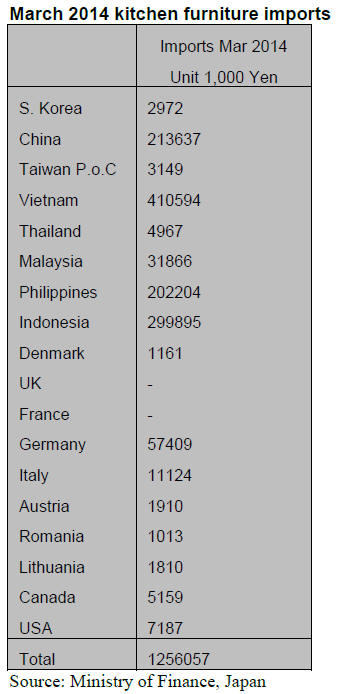 Bedroom furniture imports (HS 9403.50)
Japan"s bedroom furniture imports increased throughout
2013 and reached a record high in January 2014. February
2014 imports fell but March 2014 imports rose by around
34%to yen 2,311mil.

Most of the March increase can be explained by the 60%
rise in bedroom furniture from China as well as the 30%
increase in imports from Vietnam. The top three suppliers
in January, February and now March remain China,
Vietnam and Malaysia.

Other winners in March were shippers in Thailand (up
around 30%), Indonesia (+25%) and Italy which, although
only shipping yen 22 mil. Saw March imports by Japan
rise fivefold.

Italy and Poland dominated shipments of bedroom
furniture to Japan during March but, overall, EU suppliers
account for less than 5% of total bedroom furniture
imports.