US Dollar Exchange Rates of 11th April 2014
China Yuan 6.2111
Report from China

China¡¯s PPI down for March
The Department of Service Statistics of the National
Bureau of Statistics has published the March 2014
Producer Price Index (PPI) for manufactured goods
showing a drop of 2.3 % year-on-year and a decline of 0.3
% month-on-month.

The purchasing price index for manufactured goods also
fell 2.5% year-on-year, (0.2% month-on-month).

From January to March, the PPI fell 2.0 % year-on-year,
the purchasing price index for manufactured goods also
dropped by 2.1 % year-on-year.

For more see:
http://www.stats.gov.cn/english/PressRelease/201404/t201
40411_538101.html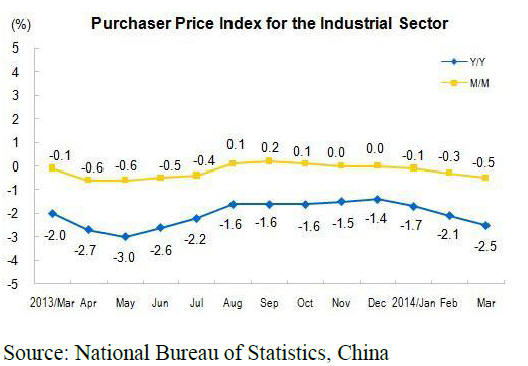 The month-on-month PPI for wood and pulp dropped
0.1% and by 1% year on year.

Purchasing managers index barely in positive territory
In March 2014, China's manufacturing purchasing
managers index (PMI) was 50.3 %, a slight increase of 0.1
% month-on-month, the first increase since last November
says the National Bureau of Statistics.

See:
http://www.stats.gov.cn/english/PressRelease/201404/t201
40401_533332.html

In terms of enterprise size, the PMI for large-sized
enterprises was 51.0%, up 0.3 % month-on-month and
continued to stay positive.

The PMI for medium-sized enterprises was 49.2 %, down
by 0.2 % month-on-month and that of small-sized
enterprises was 49.3 %, up by 0.4 % month-on-month, the
highest since August 2013, but both are still well below
the positive threshold.

This continued weakness in the manufacturing sector has
triggered moves by the government to boost spending
aimed at expanding the role of domestic consumption in
the economy rather than relying on exports.

Hongmu (redwood) prices climb as availability wanes
According to statistics from China"s Customs, 2013
hardwood log imports fell 1.7% to 2.723 million cubic
metres compared to 2012.

Imports were valued at RMB 1.172 billion, up 20 % from
2012. The average unit price for hardwood logs in 2013
rose 23% compared to 2012. Hardwood sawnwood
imports expanded sharply to 6.18 million cubic metres in
2013 and were valued at RMB 17.8 billion, up 126 % from
2012. The average unit price for hardwood sawnwood fell
4% year on year.

Chinese 2013 imports of redwoods rose 52% compared to
2012, rising to 1.2 million cubic metres valued at RMB 8.6
billion. Of the total, redwood log imports rose 40% year
on year to 1.06 million cubic metres, accounting for 39%
of all hardwood logs imports.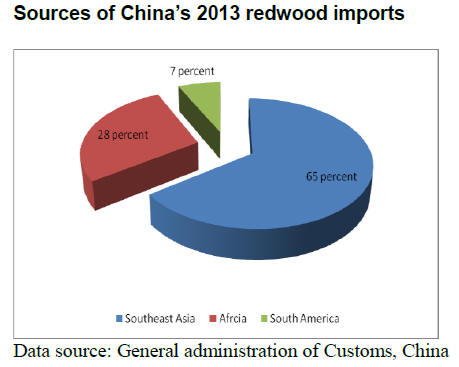 China"s imports of sawn redwoods totalled 98,200 cubic
metres in 2013, a year on year increase of 32%, but
comprised only 1.6 % of all hardwood sawnwood imports.

The average unit price for imported redwood logs in 2013
rose 11% year on year and the unit price for sawn redwood
increased 4%.

China"s redwood imports from Southeast Asia accounted
for 65% of total redwood imports, a year on year decline
of 12 % but still SE Asia remains the main source of
redwoods.

Africa was the second most important supplier accounting
for 28% of all redwood imports, up 11 % from 2012.

Chinese imports of redwoods from Central and South
America accounted for just 7% of all redwood imports in
2013 and were only marginally up on 2012.

According to China"s National Standard (GB/T18107-
2000) Redwoods (termed Hongmu in China) refers to the
heartwood of Pterocarpus spp., Dalbergia spp., Millettia
spp., Cassia spp., whose density, texture and colour meet
the requirements set in the National Hongmu Standard.
Currently 33 species are listed in the standard.

Price Indices for imported logs and sawnwood
The following price indices are prepared by the Ministry
of Commerce and the China Timber and Wood Products
Distribution Association and published in a Chinese
magazine "China Timber and Wood Products".

For full details see:
http://www.cnwood.org/default.htm
and
http://ltfzs.mofcom.gov.cn/article/buwg/redht/201305/20130500
128380.shtml.

The price indices provided are calculated based on the CIF
price so caution is advised when assessing the trends.


Good market prospects for Japanese logs
At a news conference after a meeting of the Japan Wood
Products Export Promotion Council and the Institute of
Wood Industry under Chinese Academy of Forestry (CAF)
it was revealed that in 2013 Japanese log exports were
264,000 cubic metres, up 133 % from 2012.

Of the total, Japanese log exports to China in 2013 were
129,000 cubic metres or 48% of total log exports. Demand
in China for Japanese logs has grown rapidly, 2012
exports were only half the 2013 figure.

Japan"s Ministry of Agriculture, Forestry and Fisheries
mounted an export promotion strategy for agricultural and
marine products as well as forest products and aims to
raise exports to yen 25 billion by 2020 from the yen 12.3
billion in 2012.

The market for Japanese wood products in China is set to
gain from China"s revision of wood product Standards
allowing the use of Japanese cedar, cypress and larch for
structural purposes.

The Institute of Wood Industry in the Chinese Academy of
Forestry has said it hoped to have the opportunity to gain
more experience of Japanese timber technology so as to
promote this to Chinese manufacturers.

Log export from Japan to Taiwan P.o.C and S. Korea more
than doubled in 2013 but sawnwood exports to these
markets were disappointing.

Commercial logging halted in Hinggan Mountains
It has been reported that commercial logging in two major
forests in the northeastern part of the country has been
halted in a bid to help restore the ecosystem. This decision
brings to an end more than half a century of logging in the
Greater and Lesser Hinggan Mountains.

This mountainous region is the source of major rivers
including the Nenjiang and Heilongjiang Rivers which
provide water for about a tenth of the country"s arable
land.

In order to support those whose livelihoods will be
affected by the halt to commercial logging the central
government has earmarked RMB 2.35 billion annually up
to 2020.

See:
http://www.gov.cn/xinwen/2014-04/01/content_2651034.htm

For more in English see:
http://61.129.118.78/national/Logging-gets-the-chop-innortheast-
forests-to-help-restore-ecosystems/shdaily.shtml
and
http://english.sina.com/2014/0401/688220.html

Suifenhe railhead authorities expand services
In the first quarter of this year timber imports through
Suifenhe rail yard increased 28% to 1.042 million cubic
metres valued at US$156.07 million, up 30 % in value
compared to the first quarter 2013.

Of the total, log imports through the railhead were 835,000
cubic metres and sawnwood imports 207,000 cubic
metres.

The species imported through the Suifenhe railhead
include fir, spruce, larch, Scots pine, poplar, birch, oak and
Manchurian ash.

The Suifenhe Inspection and Quarantine Bureau has
expanded its capacity for quarantine services due to the
rise in volumes being imported. In addition log scaling
services have been strengthened and notifications will be
provided if the declared volumes are incorrect.