Japan Wood Products Prices
Dollar Exchange Rates of 26th March 2014
Japan Yen 102.05
Reports From Japan
Japan's 2014 budget heavy on state spending
The 2014 budget has just been adopted in Japan and
incorporates massive government spending which may be
as high as US$936 billion. The extra high budget involves
more resources for social security, defense and public
works much of which is aimed at softening the blow of the
upcoming tax increase.

Considerable faith is being placed in fiscal stimulus
measures to strengthen the economy but the Japan Times,
the prominent English language newspaper, is urging
caution saying ―the tax h ike , co mb ined with higher
pension premiums and reduced social benefits could cost
households yen 7.5 trillion (appro x. US$74 b illion)‖.

Japanese consumers are also being hit by rising costs of
imported goods because of the weakening yen, all of
which could drive down consumer spending. Household
spending in Japan accounts for over 50% of GDP so lower
consumer spending will affect the whole economy.

For a summary of the 2014 budget see:
http://www.mof.go.jp/english/budget/budget/fy2014/01.pdf

Retail sales boom
Japanese consumers have been on a spending spree ahead
of the 1 April increase in the consumption tax. Retailers in
the country report record sales of electrical goods and the
auto market has jumped around 30% over the past months.

However the retailers are well aware the good times will
come to an end after the tax hike and are planning sales
campaigns to try and keep sales afloat.

Foreign cash flies from Japan
Data from Japan's finance ministry showed foreign
investors sold around US$11 billion in the second half of
March, the biggest movement of cash since 2005 as a
reaction to worries that Japan's economy is faltering.
Analysts say the delays in implement ing essential reforms
to spur growth are yet to be enacted which is further
undermining confidence in the government strategy.

While the Japanese media have been quick to report the
wage increases recently agreed by the large corporations
many small and medium sized companies could not offer
workers an increase in basic wages. The government is
expected to respond to any slowing in the economy with
another fiscal stimulus package in mid year.

See:
http://www.mof.go.jp/international_policy/reference/itn_tr
ansactions_in_securities/week.pdf

First quarter GDP figures will be available in April and are
expected to show a significant improvement because of
the increase in consumer spending in advance of the
consumption tax increase.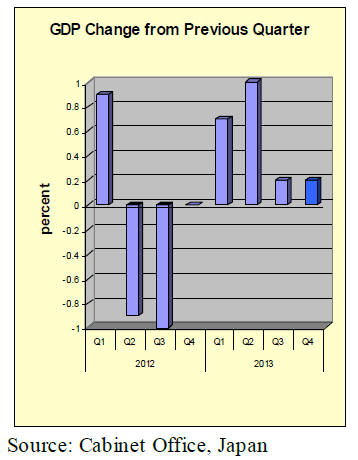 Quantitative and qualitative monetary easing explained
In a speech at the International Centre for the Study of
East Asian Development on 24 March, Kikuo Iwata, the
Deputy Governor of the Bank of Japan (BoJ) spoke on the
Bank of Japan's philosophy behind its quantitative and
qualitative monetary easing (QQE) policy.

The BoJ introduced QQE in April 2013 to achieve the
price stability target of 2 percent in terms of the year -onyear
rate of change in the Consumer price Index (CPI)
with a t ime frame of about two years.

The full speech can be seen at:
https://www.boj.or.jp/en/announcements/press/koen_2014/
ko140324a.htm/

Iwata e xpla ined: ―QQE consists of two pillars. The BoJ
has made a clear commitment that it "will achieve the
price stability target of 2 percent at the earliest possible
time, with a time horizon of about two years."

The second pillar is to engage in actions that embody the
commitment specified in the first pillar. As exemplified by
the phrase "quantitative and qualitative monetary easing,"
those actions are to increase the "quantity" of the BoJ's
balance sheet and change the "quality" of its asset
purchases.

An increase in quantity requires massively increasing the
amount of money the BoJ directly supplies to the financial
system -- this is called "the monetary base" -- at an annual
pace of about 60-70 trillion yen.

Measures to increase the monetary base are mainly
through the purchases of Japanese government bonds
(JGBs), and the BoJ will purchase JGBs so that their
outstanding amount will increase at an annual pace of
about 50 trillion yen.

A change in quality requires purchasing assets with a
higher risk profile. Among the JGBs, the BoJ has started
purchasing those with longer remaining maturit ies. In
addition, it has increased the amounts of purchases in
exchange-traded funds (ETFs) and Japan real estate
investment trusts (J-REITs) in order to reduce risk
premiums on assets.

When we (the BoJ) decided to introduce the QQE last
April and used the expression -a new phase of monetary
easing both in terms of quantity and quality -. The BoJ has
been pursuing monetary easing in exactly that manner, at
an unprecedented scale.‖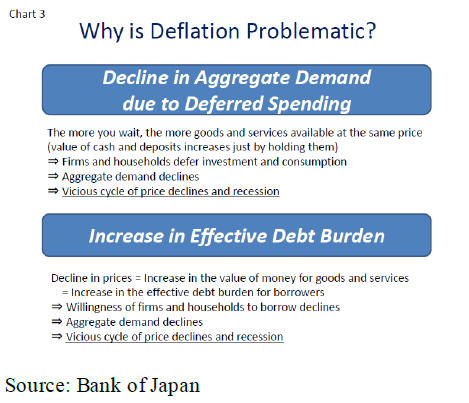 Sharp fall in consumer confidence due to impending
tax hike
Japan's Cabinet Office has released the results of the
February 2014 showing the consumer confidence index
fell to 38.3 in February, the third month of decline and the
lowest it has been since September 2011.

The latest Consumer Confidence Survey was carried out in
15 February and showed more Japanese householders
were even more pessimistic than in January.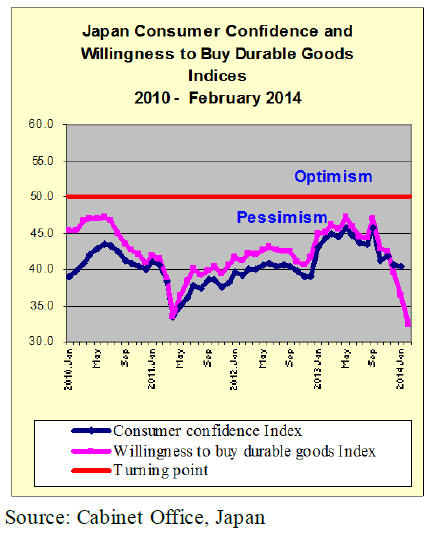 In a strange statistical twist consumer confidence was
sharply below the level forecast by many analysts and at
the same t ime retail sales have been booming as purchases
are made in advance of the consumption tax increase.

It is likely to be several months until the confidence index
in the survey is undisturbed by such one-off events. The
results of the March survey will be available in mid April.

Japan housing starts fall sharply
After rising 12.3% in the last quarter of 2013 the latest
figures fro m Japan's Ministry of Land, In frastructure and
Transport shows that first quarter 2014 housing starts
growth fell to 1% year on year and are down 10.4% from
January. Although a decline in starts was expected the
February results are well below the 4.9% growth analysts
had forecast.

House builders in Japan are bracing for lean times after the
consumption tax is increased and as a new fuel surcharge
will be levied from mid April. The pace at which the 50
major building contractors have been securing orders fell
in February extending the decline seen in January.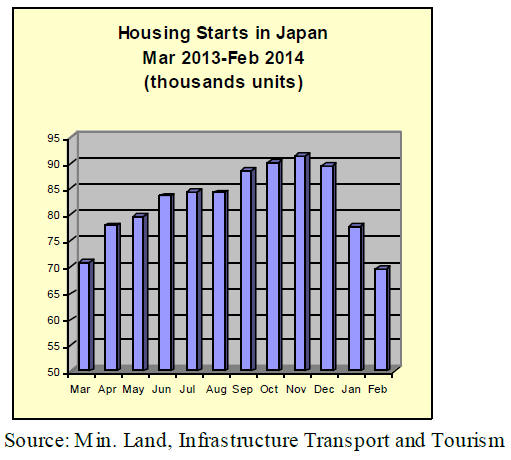 Yen:dollar March roller coaster
In early March the yen strengthened against the US dollar
rising to almost 100 as the yen became a haven currency
on concerns over US Russia relations .

However, within days the dollar s trengthened against the
yen as traders shrugged off worries over slowing growth in
China and the tensions over Russia's annexation of
Crimea. By the end of the month the yen/dollar exchange
rate was 103 to the US dollar.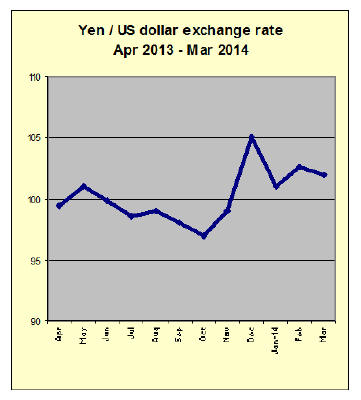 Interest rates in the US are set to rise as early as 2015, if
not before and recent confirmation of this by the US
Federal Reserve boosted the dollar.

When US interest rates increase the yen, euro and
Canadian dollar are likely to be among the biggest losers
as these countries will not be in a position to raise interest
rates at the same time or at the same speed which is likely
to result in further weakness for the yen.
South Sea (tropical) logs
Weather in Sarawak has been unstable. After heavy rain
stopped, came dry weather with sun shine and some rivers
are drying up. In particular, Tanjung Manis is heavily
affected by this weather and log production is
considerably dropping so the buyers are sending their
ships to Baram and Bintulu to fill up ships.

Since production at Tanjung Manis takes about a half of
export logs, other ports are not able to fill up a gap. Thus, total volume is
declining. Facing this shortage, India is sending their ships
to PNG and Solomon Islands.

In this situation, log prices are firming. Sarawak meranti
regular prices are US$285-295 per cbm FOB, US$5-10
higher than February. Small meranti is about US$250 and
super small is about US$230. They are also US$5-10 up.

Heavy rain continues in PNG so log production is slow.
China started buying aggressively after some pause during
Chinese New Yea r's days
Log prices are going up and particularly low grade log
prices are up by about US$20. Ships have to wait for logs
so it takes longer to finish up. There is no sign of weather
improvement. Weather is totally different from Sarawak.

January plywood supply
Total plywood supply in January was 599,900 cbms,
11.4% more than January last year and 12.3% more than
December. This is the highest monthly supply in last
twelve months.

Volume of imported plywood exceeded 360,000 cbms,
which pushed total volume up. Inventories of domestic
softwood plywood dropped below 100,000 cbms.

Imported plywood volume was 366,500 cbms, 12.9%
more than January last year and 25.5% more than
December, which is the largest monthly arrival since June
2011. In
particular, plywood from Malaysia was 158 M cbms, 6.6%
more and 31.1% more, 36 M cbms more than December.
The volume from Indonesia and China also increased by
10-20,000 cbms.

Domestic plywood production in January was 233,300
cbms, 9.2% more and 3.6% less. In this, softwood
plywood was 217,900 cbms, 11.6% more and 3.8% less.
The shipment was 246 M cbms, 9.3% and 6.2% more.

The manufacturers shipped out their inventories so that the
inventories were down to 93,200 cbms, about 23,000 cbms
less than December.

In general, operations of major precutting plants have
been slowing down but orders from large house builders
continue busy.

Plywood manufacturers think that the demand would slow
down after consumption tax hike in April but considering
forecast of housing starts this year, the demand should stay
relatively stable through the year.

South Sea (tropical) hardwood plywood market
Market of South Sea hardwood plywood soared since last
December with declining inventories and higher offer
prices by the suppliers for future shipments but excitement
simmered down in February and speculative purchases are
over in fear of price drop in March by dumping sales for
book closing. The market is quiet right now.

The suppliers suffer production delay by log shortage
since last December so that arrivals in February and March
would be down. The importers push the suppliers to make
quicker shipments.

In Japan, January arrivals were 360,000 cbms but the
importers felt scarcity with declining on-hand inventories.
Because of delayed shipments, contract balances are
increasing so the importers were not able to buy future in
February.

Meanwhile, the suppliers try to reduce accepting orders in
fear of higher log prices in future. In price negotiations in
late February, the suppliers proposed slight increase but
because of stronger exchange rate, yen cost remains
almost unchanged.

Buyers in Japan are cautious because of large order
balances and uncertain market after April.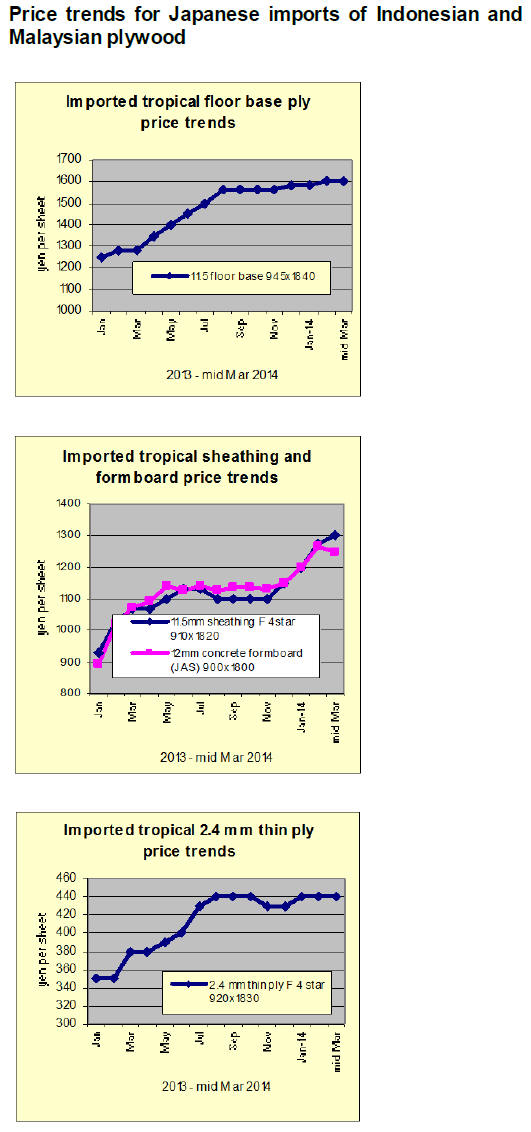 largest LVL plant in Japan
Iida Group Holdings (Tokyo),house builder and real estate
dealer, First Wood (Fukui prefecture), laminate lumber
manufacturer and precutting processor and Kawai Ringyo
(Iwate prefecture), lamina and wood chip manufacturer
will jointly build the largest LVL manufacturing plant in
Aomori prefecture with total investment of about 8.4
billion yen.
Aomori Prefecture has been inviting investment for large
wood processing facilities since 2012. Three groups are
the first one to discuss the location and size of facility.

Size of the facility is LVL production of 60,000 cbms a
year with log consumption of 120,000 cbms.
Total production of LVL in Japan so far is about 70,000
cbms so this facility will be the largest single
manufacturing plant. The plant will be completed in
March 2015.

Trends in office, kitchen and bedroom furniture
imports
Japan's office kitchen and bedroom fu rniture imports fro m
2009 to the end of February 2014 are shown below.
Imports of bedroom furniture exhibited a cyclical trend
between 2009 and 2012.

However, from 2012 bedroom furniture imports began to
increase and have continued upwards since. However,
February bedroom furniture imports fell sharply as
Japanese companies adjusted stocks in anticipation of a
decline in sales after the consumption tax is increased on 1
April.

Similarly, February imports of office and kitchen furniture
fell as businesses brace the fall-out from the tax hike.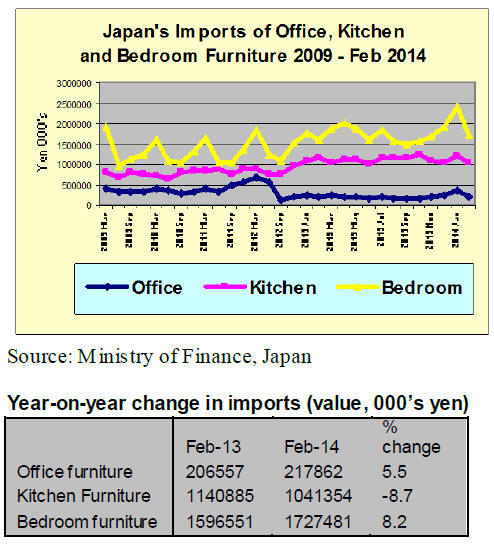 Office furniture imports (HS 9403.30)
February 2014 imports of office furniture into Japan were
up 5.5% year on year but down a massive 40% on January
imports. In February 2014 the biggest losers were China
(down 61%),Indonesia (down 71%), Sweden and
Germany.

The top three suppliers of office furniture in February this
year were China (34.5%), despite the significant decline
compared to January, Poland (17%) and Taiwan P.o.C
(11%). The three top suppliers accounted for 62.5% of all
office furniture imports in February 2014.

EU suppliers of office furniture to Japan accounted for just
6% of all office furniture imports and managed to capture
a greater share of the market in Japan during February.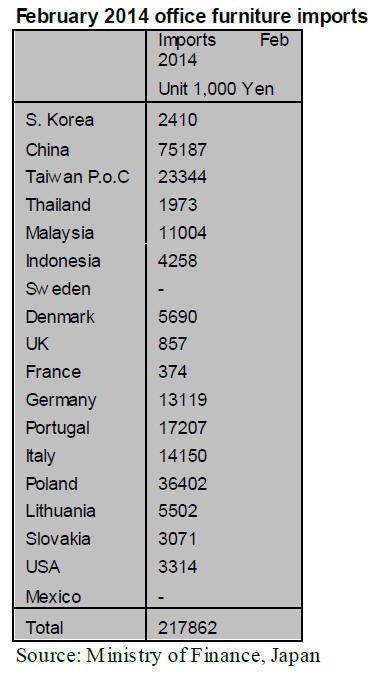 Kitchen furniture imports (HS 9403.40)
Japan's February 2014 imports of kitchen furniture were
down 14% compared to levels in January and down 8.7%
compared to levels in February 2013.

The top three suppliers accounted for over 75% of all
kitchen furniture imports by Japan and remain Vietnam,
Indonesia and China.

Of the EU suppliers of kitchen furniture to Japan in
Febraury this year only Germany provided any significant
amount but this accounted for just 2.3% of all imports of
kitchen furniture.

The biggest losers in February 2014 were Vietnam (down
19.5%) and China (down 38%), on the other hand both the
Philippines and Indonesia increased exports of kitchen
furniture to Japan in February this year.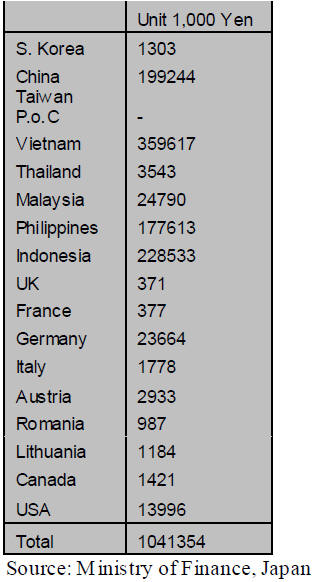 Bedroom furniture imports (HS 9403.50)
Japan's bedroom furniture imports increased throughout
2013 and reached a record high in January 2014.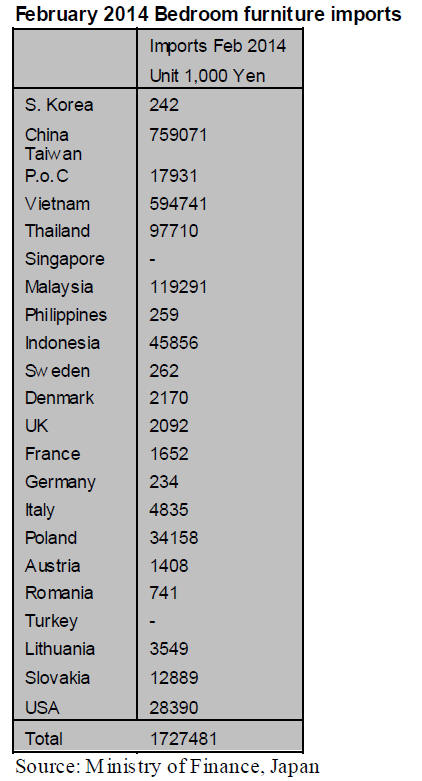 February 2014 imports show a sharp reversal in fortunes
having corrected sharply to be down 28% on levels in
January. Despite the fall in February imports of bedroom
furniture were still some 8% higher than in February 2013.

The top three suppliers in February, as in January, were
China (44%), Vietnam (34.4%) with Malaysia (7%)
joining the league table with an export performance
double that of February.

The biggest losers in February were China (down 47%)
with Hong Kong and Singapore supplying no bedroom
furniture in February 2014 after a good performance in
January.

EU suppliers accounted for just 3.7% of Japan's February
bedroom furniture imports and this was down 22% on
levels in January. Imports from Poland fell while suppliers
in France managed a better performance in February.