2. GHANA
Year-on-year growth in exports
Ghana&s timber exports for the 2013 recorded a year-onyear
growth in terms of both volume and value according
to available data from the Timber Inspection Development
Division (TIDD) of the Forestry Commission.

Overall the volume of exports increased just over 8% in
2013 compared to 2012 while the value of 2013 exports
rose a healthy 19.5%.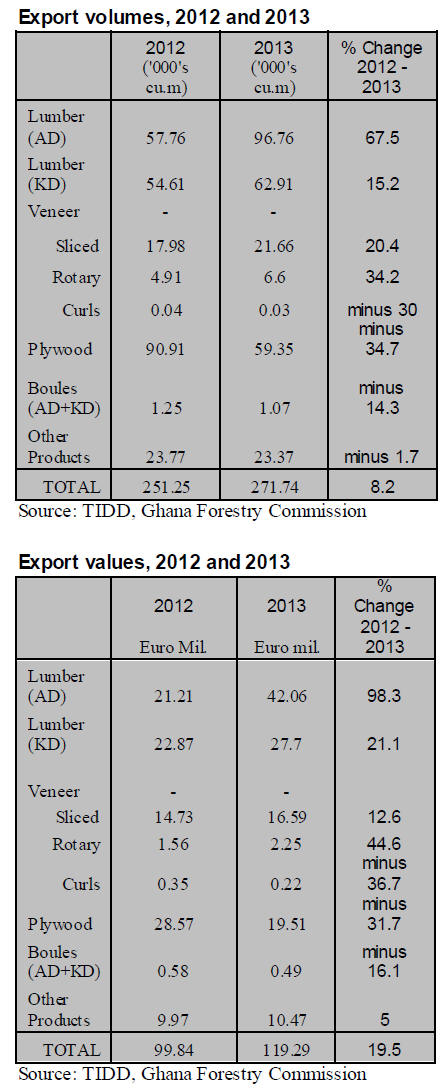 Sawnwood and veneer exports grew in terms of both
volume and value in 2013 compared to 2012.Of the 21
products exported in 2013, air dried and kiln dried
sawnwood and plywood (including overland exports)
accounted for 35.6%, 23.2% and 21.8% respectively of
total export volumes which totalled 271,740 cu.m earning
euro 89.27 million.

Overland plywood exports to neighbouring countries
accounted for 96% of the total plywood exports
(59,350m3) in 2013. The main markets were Nigeria,
Burkina Faso and Niger.

Primary product exports (mainly sawnwood, boules,
veneers and plywood) accounted for over 90% of the
volume and value of exports. The major species exported
during 2013 were wawa, mahogany, ofram, sapele,
rosewood, dahoma and denya.

The United States, China, Germany, UK, Nigeria, Senegal
and India were some of the major markets for Ghana&s
wood products in 2013.

The ECOWAS countries , especially Nigeria, Burkina
Faso, Niger, Benin and Senegal, were significant buyers of
Ghana&s wood products in 2013.

Power rationing affects businesses
The Electricity Company of Ghana (ECG) has introduced
a nationwide power rationing scheme which became
necessary because the supply of natural gas from Nigeria
is inadequate to meet Ghana&s power requirements.

The load shedding and erratic power supply has meant that
businesses, including timber manufacturers, have had to
switch to on-site diesel generators which has pushed up
production costs.

Ghana relies on gas from Nigeria for power generation but
supplies are becoming unreliable due to frequent technical
problems with the West African Gas pipeline.

Domestic gas supplies to come on stream in
September
The head of the state-run Ghana National Petroleum
Corporation (GNPC), Alex Mould, has said Ghana will
start processing gas from its offshore Jubilee oil field by
September after long delays.

Construction work on the US$750 million plant, originally
scheduled for completion last year, has been delayed
because of both financial and technical problems.

Consumer price inflation at 3-Year high
Ghana's annual consumer price inflat ion rose to a fresh
three-year high of 14% in February, up from 13.8% in
January according to the Ghana Statistical Service . The
impact of the rise in fuel prices on transport and food
prices has driven inflat ion higher.

In related news a mission from the International Monetary
Fund (IMF) recently assessed the state of the Ghanaian
economy. At the end of the mission, the IMF issued a
press release which summarised the conclusions from the
visit wh ich says: 求 Ghana&s economy slowed down on the
back of sizable external and fiscal imbalances and energy
disruptions in the first half of the year.
Based on data for the first three quarters of 2013, the
mission estimates growth of 5.5 percent〞well below the
levels of recent years. On the fiscal side, revenue
shortfalls, overruns in the wage bill, and rising interest
costs pushed the 2013 deficit to 10.9 percent of GDP,
versus a target of 9 percent.

The overrun would have been higher in the absence of
significant revenue measures, the elimination of fuel
subsidies, large increases in utility prices, and compression
of other expenditure.

The large fiscal deficit combined with a weaker external
environment, led to a widening of the current account
deficit to 13 percent of GDP and to further pressure on
international reserves.

The consequent weakening of the cedi together with large
administered price increases contributed to inflation rising
above the end-year target range to 13.5 percent′.

For the full release see:
http://www.imf.org/external/np/sec/pr/2014/pr1471.htm

Foundation for Ghana*s maritime transport hub
Ghana has established a mult i-million maritime safety and
security project that will ensure constant surveillance of
the country&s territorial waters. A vessel monitoring and
informat ion management system (VTMIS) has been put in
place providing for 24 hour monitoring of vessels moving
in and out of Ghana&s waters.

The Director-General of the Ghana Marit ime Authority
(GMA), Mr Peter Issaka Azumah, said in an interview
with the Graphic Press that 求completion of the VTMIS
project and its planned commissioning next month would
boost the country&s vision of becoming the central point in
West Africa where majority of marit ime businesses are
transacted.′ Mr Azu mah outlined the VTMIS at a
conference on Coastal and Maritime Surveillance in
Africa.

For the full story see:
http://graphic.com.gh/business/business-news/20099-
ghana-s-marit ime-hub-concept-gets-us-35m-boost.html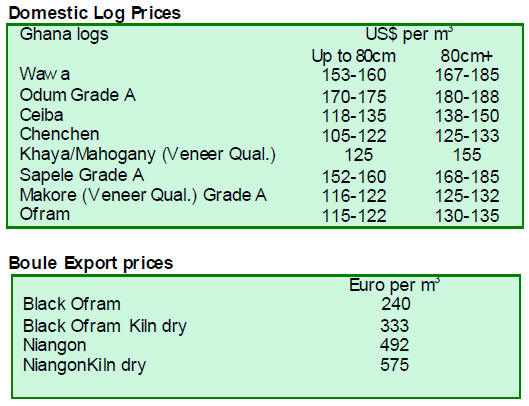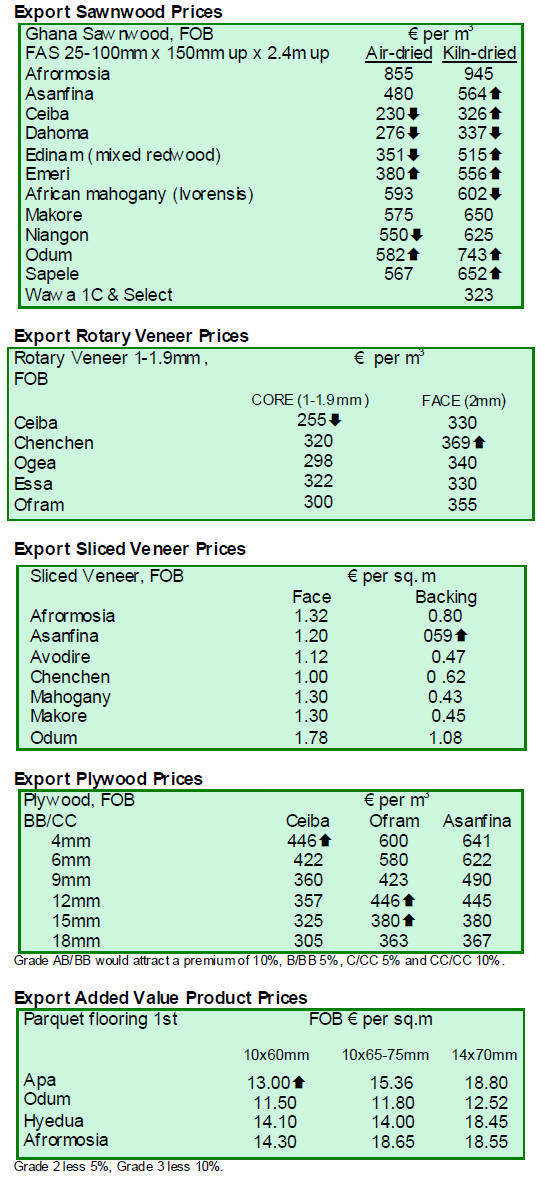 3. MALAYSIA
Low level of demand for certified wood disappoints
industry
The MTCC has released data for the last four months of
2013 on exports of wood products certified through the
Malaysian Timber Certificat ion System (MTCS).
In the last four months of 2013, Malaysia exported 62,215
cu.m of certified timber products. The highest volume
went to Netherlands with 19,313 cu.m (31% of total),
United kingdom 9,977 cu.m (16%) and Germany 4,727
cu.m (7.6%).

The MTCS, operated by MTCC, is endorsed by the
Programme for the Endorsement of Forest Cert ification
(PEFC).

Industry analysts say that, despite the development and
progress of timber certificat ion in Malaysia, the purchase
of certified wood products has been disappointing. This
weak demand for certified t imber products is thought to be
discouraging companies from applying CoC certification.

The most commonly heard complaint from industry is that
demand for cert ified products is not expanding and even
when a price premium can be secured this is insufficient to
offset the additional expenses incurred.

Diversification into Glulam production
Glue laminated timber (Glulam) will be promoted by the
Malaysian Timber Council (MTC) to increase acceptance
by the domestic construction industry. MTC has identified
glulam as an innovative technically superior material that
will offer many advantages to construction companies.

Yeo Heng Hua of MTC said diversifying manufacturing is
one means for the country to achieve its export target of
RM53 billion by 2020 and ensure the growth of Malaysia's
timber industry.

Myanmar log export ban to benefit Malaysian
companies
Myanmar&s log export ban on 1 April is seen by many in
the industry as providing an opportunity for Malaysian
timber companies, especially as demand in India and
Japan is firm.

The investment research company, RHB Research
Institute, says 求Malaysia&s log prices will be undergoing a
re-rat ing as Myanmar&s log e xports catered to more or less
the same e xport ma rkets as Malaysia′.

RHB&s Hoe Lee Leng said, 求 Looking back at history,
when Indonesia banned log exports in 2001, Malaysia
went from having a 43% log export market share to a 58%
market share. In view of the change in Myanmar, we
expect tropical log prices to start to go up again from the
first half of 2014, after the existing inventory of logs held
in impo rting countries declines′.

Hoe is expecting the knock-on effect of the Myanmar ban
to be less felt in the plywood markets where he predicts
prices will go up 2 每 3% year-on-year.

He pointed out that while Japan housing projects grew
11% in the year 2013 and 12.3% in the first quarter of
2014, plywood imports did not rise by the same amount,
growing only 3.3% year-on-year.

The Myanmar log export ban is expected to benefit
Sarawa k t imber co mpanies most as they are the nation&s
main log exporters.

The Sarawak Timber industry Development Corporation
(STIDC), in its first quarterly magazine for 2014, states it
is hopeful that Sarawak will sustain timber and timber
product export values at RM7.2 billion (approximately
US$ 2.2 billion) this year.

Plantation C&I Standards under revision
The Malaysian Timber Cert ification Council (MTCC) is in
the process of reviewing its standards for the Criteria and
Indicators for forest plantations. The review committee of
sixteen stakeholders met for the second time in Kuching.

As a result of the second meeting, the committee prepared
an Enquiry Draft for a revised Standard which will be
further deliberated upon in the three regions of the country
namely, Peninsular Malaysia, Sabah and Sarawak. Details
of the regional consultations will be posted on the MTCC
website: www.mtcc.com.my.
4. INDONESIA
Vietnam and Malaysia outperform Indonesia's wood
product exports
The Indonesian Ministry of Trade has reported that the
2013 value of wooden furniture exports was US$1.2
billion and that rattan furniture exports were worth
US$219.8 million.

While this is a good performance, Indonesia's furniture
exporters are yet to match the achievements of both
Vietnam and Malaysia which exported more than twice
the amount in the case of Malaysia and 4 times as much in
the case of Vietnam.

However, none of the SE Asian exporters can match the
performance of China where wooden furniture exports in
2013 were US$12.38 billion. Indonesia&s Trade Minister,
Muhamad Lutfi has said that the country should do better
as it has 140 million hectares of forest so has ample timber
resources to support greater exports .
Furniture SMEs gain from CIFOR assistance
In order to take full advantage of the opportunity created
by the VPA for easy access to EU markets , furniture
manufacturers in Central Java have established a new
association that will help small and medium sized
companies secure legality cert ification under Indonesia&s
SVLK.

The establishment of the new body was assisted by CIFOR
through its Furniture Value Chain research project headed
by Herry Purnomo.

CIFOR had undertaken a study to find ways to boost the
incomes of small-scale furniture makers whose industry
has been in decline since the 2008 global financial crisis
and the impact of ASEAN free pact.

Result of biomass study released
The Indonesian Ministry of Forestry has released the
results of its massive biomass study conducted in Central
Kalimantan. The approach taken has the potential to be a
model for similar projects in other areas and the results
provide a key reference point in terms of national green
house gas reporting. For more details see:
http://www.forda-mof.org/index.php/berita/post/1662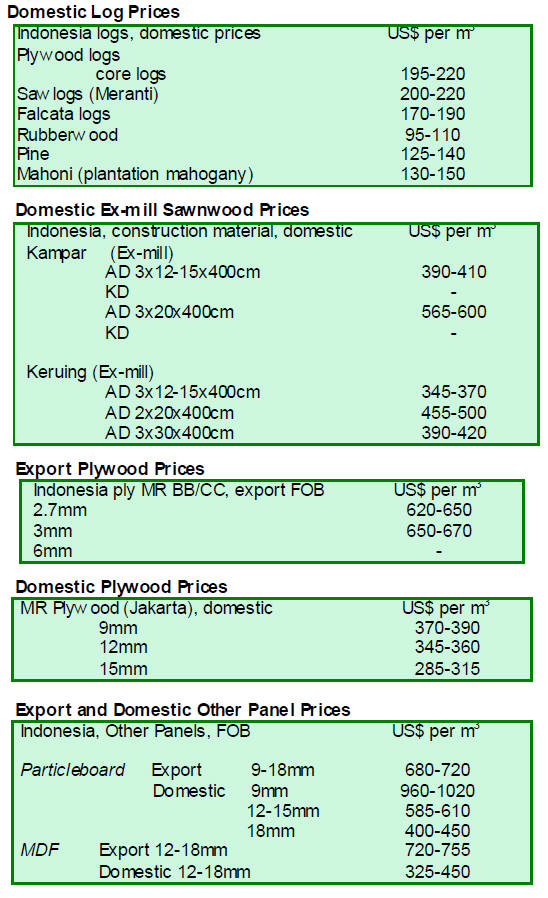 ﹛
5. MYANMAR
Commercial tax reduction
The Pyidaungsu Hluttaw (Union Parliament) while
debating taxation matters decided upon a reduction from
50% to 25% in the commercial tax on logs and rough sawn
timber.

After the log export ban, MTE will remain the sole
supplier of raw material to the domestic mills and it is
understood all sales by MTE are inclusive of the
commercial tax.

One analyst said that if the sales invoices from MTE
included the statement ‗pric ing is inclusive of commercial
tax& this would help e xporters speed up their preparation
of tax and export documentation.

Analysts close to the timber industry say that it appears the
commercial tax for processed timber products will be 5%,
another step towards the development of the export-driven
timber trade and industry.

Union Parliament approves electricity rate hike
The New Light of Myanmar of 20 March reported that the
Pyidaungsu Hluttaw has approved an increase in the
electricity rates from 1 April, the beginning of the new
fiscal year.

Some journalists are crit ical of this hike, arguing that rate
increases for the industrial sector would inevitably create a
chain reaction resulting in an increase in consumer prices .

Maung Maung Lay, vice chairman of the Union of
Myanmar Federation of Chambers and Commerce
Industry (UMFCCI), said production costs for Myanmar
industries were set to rise significantly as a result of the
change in power rates and that this will undermine the
competitiveness of Myanmar products.

Myat Thin Aung, chairman of the Hlaing Thayar industrial
zone in Yangon, voiced similar concerns as reported by
the Irrawaddy on 24 March saying 求All manufacturers will
be impacted # they can&t compete with imported goods
because production costs are increasing.′

EU and Myanmar to negotiate investment protection
agreement
The EU reinstated trade preferences to Myanmar in July
2013 and in late March this year the EU Trade
Commissioner Karel De Gucht opened negotiations for an
investment protection agreement between the European
Union and Myanmar with Dr. Kan Zaw, Union Minister of
National Planning and Economic Development of the
Republic of the Union of Myanmar.

The EU Member States gave endorsed the opening of
these negotiations which, if successful, will improve the
protection and fair treatment of investors from both sides
and will thus contribute to attracting investments to
Myanmar and the EU.
"This investment agreement could become an important
accelerator for the reform process in Myanmar/Burma",
said EU Trade Commissioner De Gucht. "Experience has
shown that improving legal certainty and predictability for
investments is key in providing business opportunities and
much-needed development for this growing economy.

I hope we can conclude negotiations swiftly to open the
door to an increased flow of mutually beneficial
investments. The European Union fully supports
Myanmar's reform process and is ready to support further
efforts in this direction. Currently, there is no bilateral
investment treaty in place between Myanmar and any EU
Member States′.

For the full press release see: http://europa.eu/rapid/press -
release_IP-14-285_en.htm

Teak sales
The following grades were sold by competitive bidding on
10 and 21 March 2014 at the Myanma Timber Enterprise
(MTE) tender hall.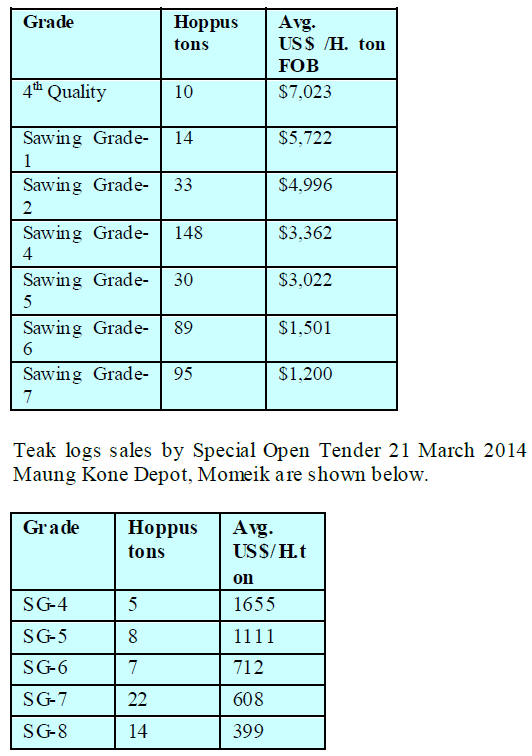 Analysts say that, as these teak logs were sold on-site at
the Maung Kone Depot in Momeik which is in the
northern part of the country, it is unlikely these logs can be
exported before the log export ban comes into effect.

Timber traders are desperately trying to ship whatever
they can before the 1 April deadline and are being helped
as both the weather and transport conditions are
favourable. Analysts expect to see a further surge in export
shipments of logs during the final days of March.
6. INDIA
Wholesale price steady
The Office of the Economic Adviser to the Indian
government provides details of trend in the Wholesale
Price Index (WPI). The official Wholesale Price Index for
‗All Co mmodit ies& (Base: 2004-05 = 100) for the month of
February remained at 178.9. The indications are that the
wholesale price index will fall further in the second
quarter.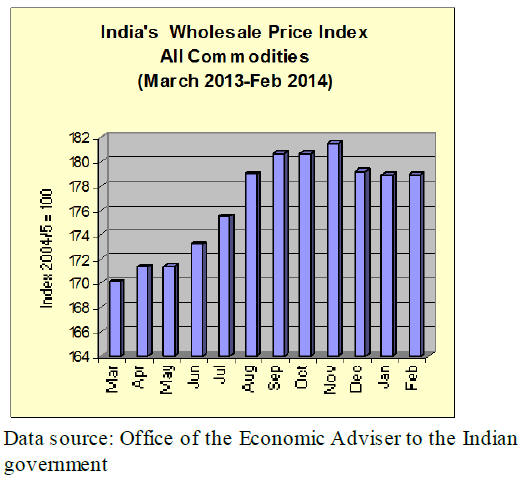 Indian economy on a stronger footing
Analysts are suggesting that the upcoming election could
lead to a further strengthening of the Indian economy and
an increase of inward investment, especially as the
economy looks better placed to withstand any further
external shocks.

Signs of a recovery in the global economy are boosting the
outlook for India's exporters and the recent decline in
commodity prices, especially of energy, industrial goods
and gold, combined with weaker domestic demand, is
helping reduce India's trade deficit.

The stable rupee:US dollar exchange rate has been
effectively maintained and from being one of the worst
performing emerging market currencies, the rupee has
become more resilient thanks largely to the actions of the
Reserve Bank of India.

In addition, the deficit has begun to fall as has the rate of
inflation. Overall, prospects for the economy have
improved and with polls showing a strong prospect of
continued political stability, the economy should further
improve after the elections.

In a recent press statement Morgan Stanley indicated it has
raised its forecast for India's 2014 GDP growth to 5.2%.
Inflation at nine month low
The inflation rate recently eased to a nine month low of
4.68%. Retail inflation, which eats into household budgets,
has also dropped to a two year low of 8.10% from 8.79 %
in January 2014.

Through recent action by, and new regulations from, the
Ministry of Environment and Forestry, the mining, power
and manufacturing sectors have improved opportunities
for added value production and export . These changes are
already filtering into the index for industrial production
which has improved over recent months.

Timber and plywood wholesale price indices
In addition to data on the Wholesale Price Index for all
commodit ies, the Office of the Economic Adviser to the
Indian government also reports data on wholesale price
movements for a variety of wood products.

The Wholesale Price Indices for Logs/timber and Plywood
are shown below. The logs/timber index has remained at
the same level for two consecutive months.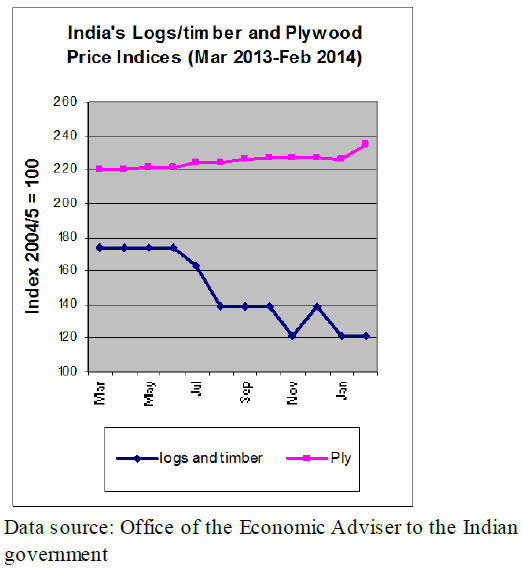 Reliance on timber imports of concern
India has been meeting its growing demand for wood
products such as plywood, sawnwood and pulp and paper
through imports as domestic industries are inadequate to
meet the growth in demand but the dependence on imports
is of concern.

According to the National Research Centre for Agro
forestry (NCRA), the country imported six million cubic
metres of t imber last year. NCRA data suggests India has
23,220 saw mills, 2,562 large and small plywood mills,
660 pulp and paper mills but says most are operating at
only 40 per cent of their capacity.

The NCRA says the main reason for the inadequate supply
of raw materials is that a high proportion of logs come
from farmers and land owners which, under the present
regulations, have little incentive to produce wood raw
materials.

In an effort to boost agro-forestry output a National Agroforestry
Policy (2014) has been drafted which, say
analysts, has the potential to revive the agro-forestry
sector.

Currently small farmers avoid agro-forestry production
because of unfavourable regulations on felling and
transporting of farm grown trees in the Indian Forest Act .
The Act restricts felling and transportation of trees grown
even on private farmland, especially of those species
which are found in the nearby forests, a measure aimed at
reducing illegal felling.

In addition, unlike the agriculture sector, the agro-forestry
sector lacks an institutional insurance facility. The new
policy addresses this and for the first time promises risk
coverage to farmers practicing agro forestry against theft
and natural calamit ies such as cyclone, storm, floods and
drought.

The policy calls for farmers to be provided with soft loans.
Government estimates suggest that the policy will help
increase the area under agro forestry from 25.32 million
hectares to 53 million ha.

India&s imports of wood and wood products continue to
grow with firm demand from manufacturers.

Current C & F prices for imported plantation teak, Indian
ports per cubic metre are shown below.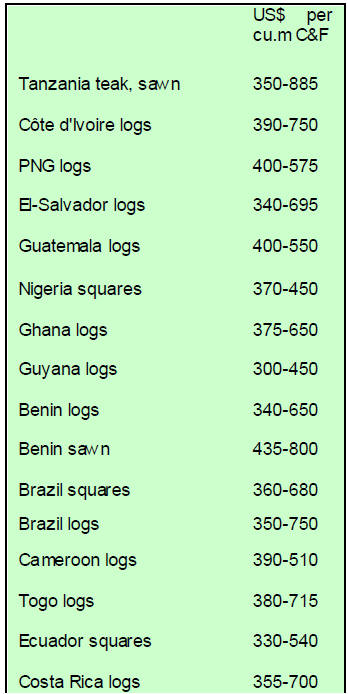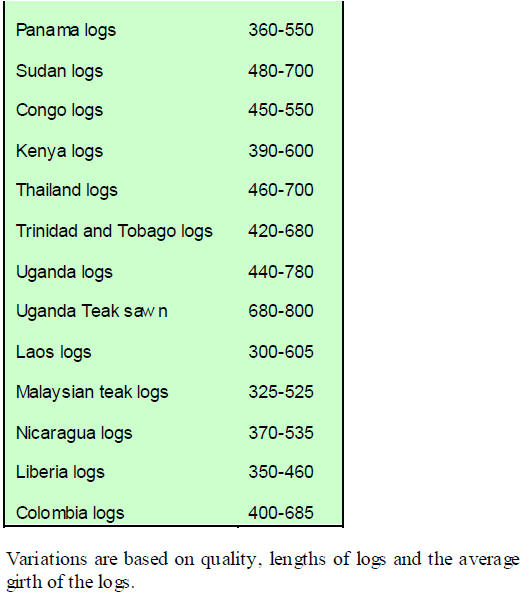 Prices for domestically sawn imported logs
Demand for Balau is very strong and because supplies
have not kept pace prices have risen. As a result of the rise
in prices for balau meranti is now more widely accepted.

Prices for air dry sawnwood per cubic Foot, ex-sawmill
are shown below.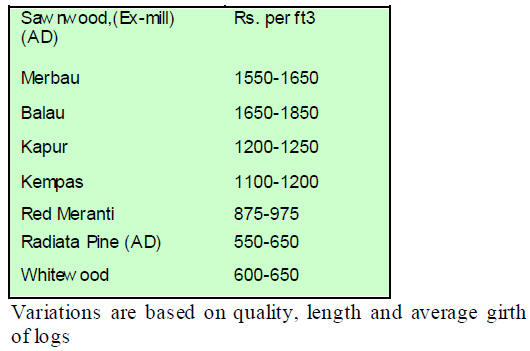 Myanmar teak processed in India
Export demand continues to be good but domestic demand
is still slow.

Imported sawnwood prices
Demand for hardwoods from the USA and timber from
Canada is improving as these timbers become more widely
accepted. Prices in the local market remain unchanged.

Ex-warehouse prices for imported kiln dry (12% mc.)
sawnwood per cu.ft are shown below.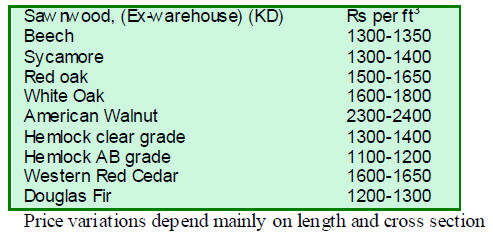 Plywood market slow to revive
With the Indian rupee slowly strengthening prices for
imported plywood as well as prices for plywood
manufactured from imported logs have fallen slightly.
Plywood manufacturers are expecting the domestic
housing market to get a boost after the general election
and anticipate this expand demand for plywood.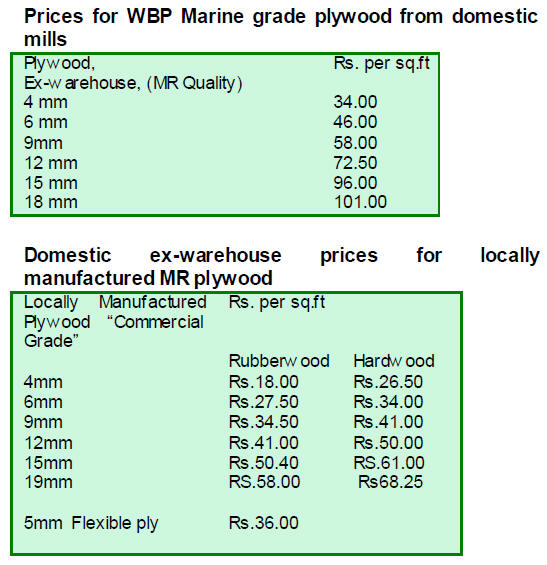 7. BRAZIL
Real depreciation helping exports
The Consumer Price Index (IPCA) that measures inflation
in Brazil rose 0.69% in February 2014 after increasing
0.55% in January 2014. In February 2013 the IPCA rate
was 0.60%.

The average exchange rate in February 2014 was BRL
2.38 to the US dollar, significantly weaker than BRL 1.97
in February 2013 demonstrating by how much the
Brazilian currency has depreciated against the US dollar.

In February 2014, the Monetary Policy Committee of the
Central Bank (COPOM) decided to increase the Selic
(interest) rate from 10.5% to 10.75%.

Timber sector negotiates more favourable tax basis
The Department of Finance of the State of Mato Grosso
(SEFAZ) has published the wood price list that is used by
SEFAZ as the basis for calculating state taxes.

The state government initially planned to increase prices
in its minimum price list by 10%, but after strong lobbying
by the timber industry an increase of 4.1% was agreed.

According to Timber Industries Association of Northern
Mato Grosso (Sindusmad), this adjustment while consider
high, will not add significantly to costs or affect the
competitiveness of companies in relation to other
producing States.

The price list negotiations took into consideration the fact
that the state government needed to maintain the same
level of tax (Tax over Circulation of Goods and Services)
revenue from previous years.

Heavy rains and poor roads driving up timber
transport costs
Forest products transport from Mato Grosso state to the
main consumer centres is being hampered by the above
average rainfall for this period in the region.

Unpaved roads have been turned into muddy rivers and
river crossings have become difficult and dangerous. As a
result of the difficulty driving conditions companies in the
forestry sector have seen transport costs rise sharply
compared to what they were paying in December last year
when there was less rainfall.

According to the Union of Timber Industries for Mid-
North region in the State of Mato Grosso (SINDINORTE),
road transport costs increased 10% in less than two
months.

In order to transport wood products from Nova Maringa,
located 305 kilometers from Cuiab芍 (the state capital) to
the São Jos谷 do Rio Preto consumer cluster located in the
state of São Paulo the current freight costs are as high as
R$220 per ton. In December 2013 the transport cost for
the same route was about R$200 per ton.

Transport costs fro m Coln iza (one of the State&s largest
timber producers) to the State of Esp赤rito Santo have
jumped over 30% from R$360 to R$490 per ton in the past
two months.

Due to this unexpected rise in transport costs
SINDINORTE has requested a reduction in the prices for
wood products in the official list used to set taxes.

According to the Union of Wood and Furniture Industries
of Northwestern Mato Grosso (SIMNO), transport costs
could rise even more as companies are forced to use
alternative, longer routes.

February export performance
In February 2014, wood product exports (except pulp and
paper) increased 19% in terms of value compared to
February 2013, from US$186.2 million to US$221.6
million.

Pine sawnwood exports increased 37% in value in
February compared to February 2013, from US$12.7
million to US$17.4 million. In terms of volume, exports
rose 30.1%, from 57,900 cu.m to 75,300 cu.m in the same
period.

Tropical sawnwood exports rose just over 1% in volume,
from 27,700 cu.m in February 2013 to 28,000 cu.m in
February this year and the value of exports increased 7.2%
from US$15.2 million to US$ 16.3 million, in the same
period.

Pine plywood exports improved by around 13% in value
this February compared to February 2013, from US$30.2
million to US$34.1 million. There was also an increase in
the volume of exports by 13.8%, from 81,100 cu.m to
92,300 cu.m in the same period.

While of declining significance, tropical plywood exports
fell almost 18% from 4,500 cu.m last February to 3,700
cu.m in February this year.

Potential in furniture sector examined in new report
The value of wooden furniture exports increased from
US$34.3 million in February 2013 to US$37.2 million in
February 2014, an 8.5% increase and furniture production
for the domestic and international markets is expected to
expand throughout in 2014.

A study on the potential for the furniture market in 2014
has been launched by the Institute for Industrial Studies
and Marketing (IEMI). The early findings forecast a 3.5%
increase in furniture parts sales, a 14.5% rise in imports
and an 8% rise in exports in 2014.

The overall value of furniture output, says the study, could
rise to US$14.5 billion while imports could be around
US$337 million and exports US$503 million in 2014 on
the basis of an exchange rate of R$ 2.44 per US dollar.
Brazil has around 18,200 furniture manufacturers which
provide about 300,000 direct and indirect jobs.

March prices round-up
Average natural forest roundwood prices range from
US$109 to US$169.5 per cu.m at mill yard, while average
prices for sawnwood from natural forest species varied
from US$253.5 to US$859 per cu.m ex-factory depending
on species. In both cases the highest prices were for ip那
(Tabebuia sp.).

The average price of parica WBP plywood ranged from
US$520 to US$ 735.5 per cu.m ex-factory depending on
thickness.

Prices for parica MR glue plywood were in the range of
US$478 to US$ 651.5per cu.m ex-factory, according to the
thickness. The average price for reconstituted panels were
US$314.5 per cu.m ex-factory for raw MDP (15 mm) and
US$494 per cu.m ex-factory for raw MDF (15 mm).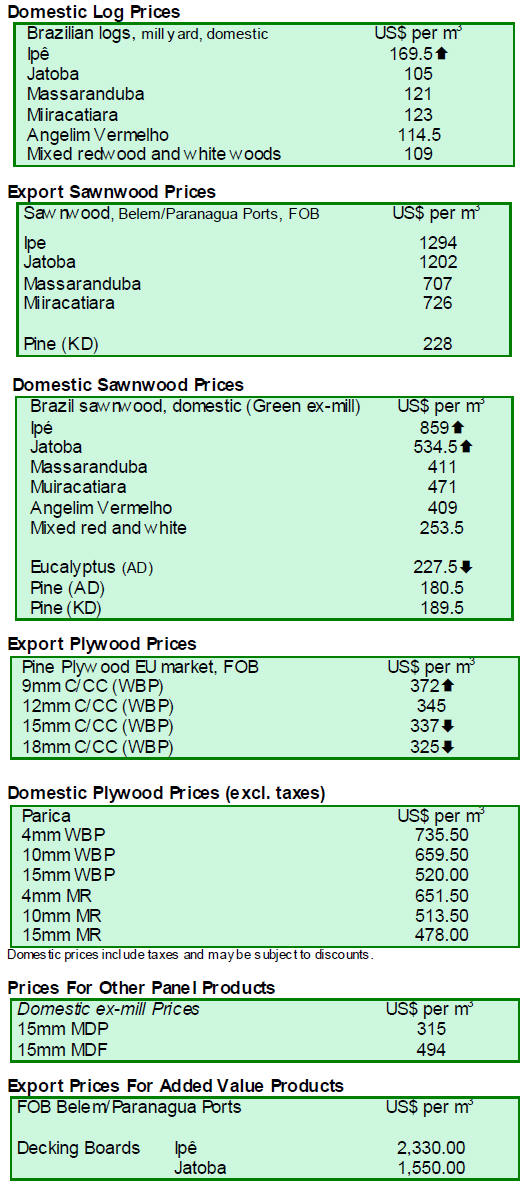 ﹛
8. PERU
Strategy to promote forestry sector investment
In order to achieve conditions that will lead to greater
investment and market access the Ministry of Agriculture
will be hosting workshops to promote the Forestry Sector
in the Amazon region namely, Mother God , Loreto and
Ucayali.

The workshop participants will be drawn from t imber and
non-timber resource mangers, native communities,
forestry consultants and major NGOs in the area.

INIA launches agro-forestry drive
The National Institute of Agricultural Innovation (INIA)
will promote agro-forestry to increase the productivity of
land in large regions of Peru. It is planned to introduce
pine in coffee producing areas of Villa Rica.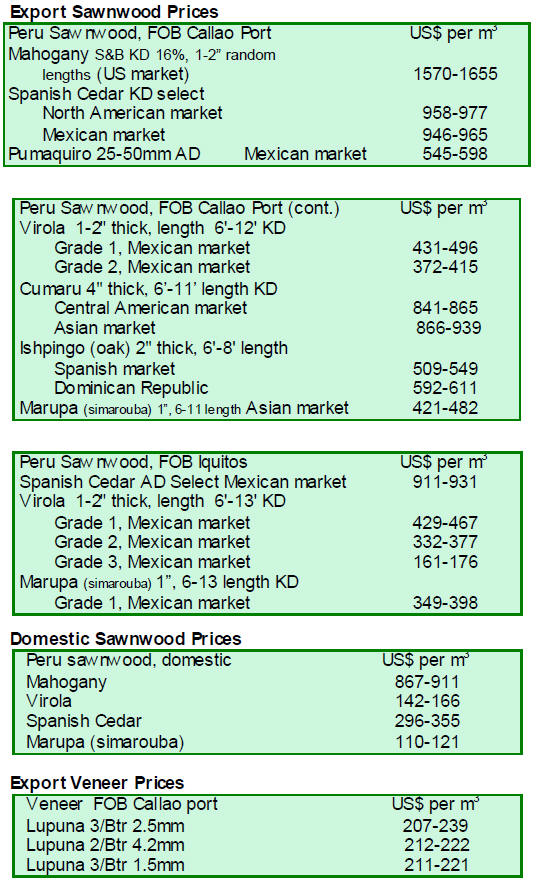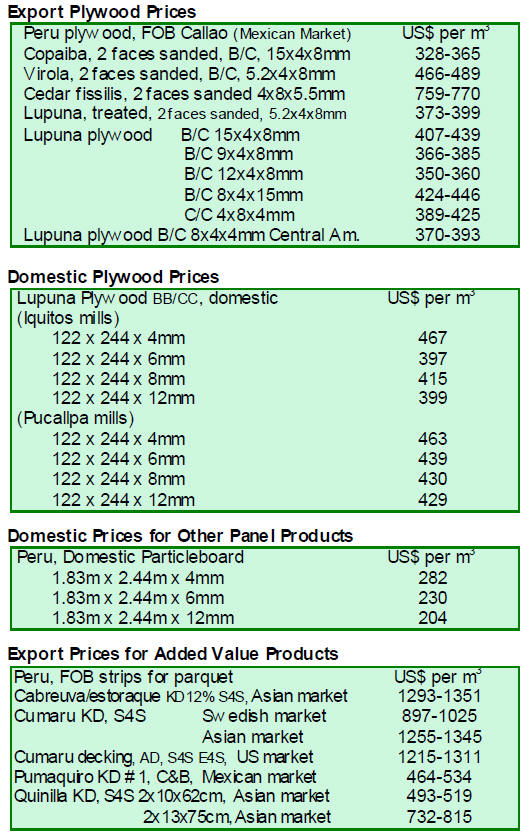 9. GUYANA
Mora log prices ease, India the top log buyer
Only greenheart and mora logs were exported in the period
reviewed, there was no export of purpleheart logs.
Greenheart log FOB prices were fair on the market with
Standard Sawmill Quality priced at an average of US$ 140
per cu.m, Fair Sawmill Quality US$130per cu.m and
Small Sawmill Quality US$120 per cu.m.

In comparison mora log FOB prices were stable with
Standard Sawmill Quality traded at US$120 per cu.m and
Fair Sawmill Quality at US$115. The FOB price for Small
Sawmill quality mora logs was US$110 per cu.m FOB.
The majo r markets for Guyana&s logs were in Asian,
predominantly India.

Mora sawnwood outperforms other timbers
The sawnwood market was quiet over the past weeks.
Non-dressed greenheart (Prime Quality) low end FOB
prices remained stable at US$954 per cu.m but Select
Quality top end prices moved up from US$848 to US$910
per cu.m. Then again, Sound Quality Non-dressed
greenheart FOB prices were largely unchanged.

Non-dressed purpleheart Select Quality sawnwood prices
remained firm at US$1,080 per cu.m FOB but Nondressed
mora Select Quality prices saw a fall in FOB price
from US$976 to US$954 per cu.m.

On the other hand, Merchantable Quality mora FOB prices
climbed from US$500 to US$594 per cu.m. The main
destinations for sawn but Non-dressed species from
Guyana were the Caribbean, Europe, Oceania and North
America.

During the period under review Dressed greenheart
sawnwood FOB prices held firm price at US$1,060 per
cu.m. However Dressed purpleheart FOB prices saw a rise
in top end price from US$869 to US$1,102 per cu.m.

The Caribbean was the only market to absorbs dressed
sawnwood in the period reviewed.

Plywood export prices were unchanged at US$ 584 per
cu.m FOB in the markets of Central and South America.

Greenheart piles for heavy construction works secured a
fair price on the market earning as much US$425 per cu.m
FOB for Select Quality and US$432 per cu.m for Sound
Quality. Europe and North America remain the major
markets for this product.Guyana splitwood (shingles)
commanded a fair FOB price of US$1,023 per cu.m in the
Caribbean and N. Amercan markets.

Profit from using Lesser Used Species
Guyana&s forests contain a large diversity of timber
species but only a handful of these species (greenheart,
purpleheart, kabukalli and crabwood) are popular being
readily recognised for both their strength and aesthetic
properties.

It has been established that the technical properties of
many lesser used species (LUS) are comparable to those of
the more popular species for example Darina, a LUS has
similar properties to Hububalli, a popular t imber.
Hububalli is popular locally for furniture and building
components but now Darina is gaining in popularity.

Similarly, black kakaralli is suitable for piling as it has
properties close to those of greenheart but is available at a
more competitive price.

Update on Guyana*s VPA Process
Guyana is committed to fulfilling the aspects of the VPA
process as outlined in the Roadmap for Guyana EU
FLEGT VPA. The Communication and Consultation
Strategy is in its final stages of complet ion.

The document is currently being reviewed by stakeholders
directly and indirectly involved in the forest sector.
Importantly, the document will continue to be an active
document and will therefore be subjected to updates as
deemed appropriate in the interest of advancing the VPA
process.

The Nat ional Technical Working Group met with
representatives of FAO during March 2014 to discuss
strengthening and advancing the VPA process as well as
the progress made with the development of the
Communicat ion and Consultation Strategy and the
complet ion of the Scoping of Impact Study; both of which
are funded by the FAO.

Stakeholder engagement activities have continued within
the country. Staff have been recruited by the Guyana
Forestry Commission and were given an introduction to
FLEGT as well as an update of Guyana&s VPA process.

Additionally, members of the National Technical Working
Group met with a wide cross -section of stakeholders to
update them on the VPA process, fostering a better
understanding of the EU FLEGT process and examining
the Legality Definit ion.

Revision of the Draft Legality Definit ion is ongoing and
stakeholders are being urged to contribute. Emails can be
sent to: euflegt@forestry.gov.gy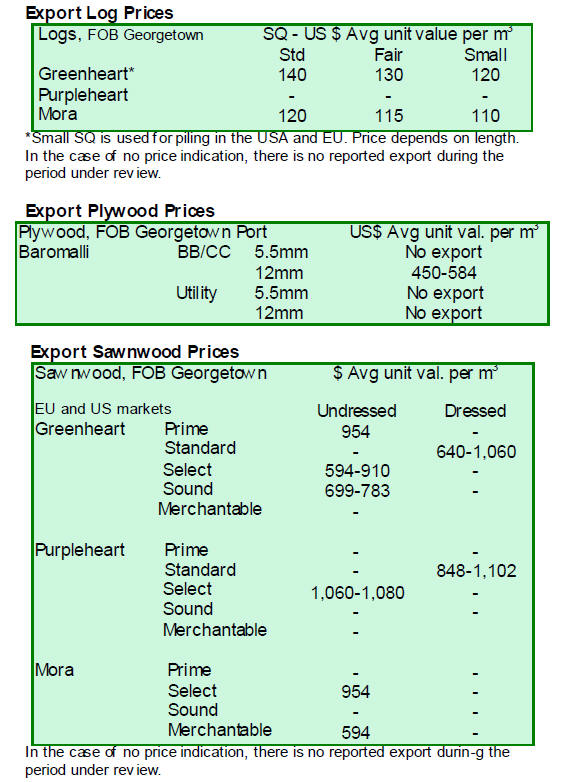 ﹛