2. GHANA
Sawnwood exports drive up earnings
The Timber Inspection Development Division of the
Forestry Commission of Ghana has released export data
for the period Jan-Nov 2013.

The report shows that between January and November
2013 245,652 cubic metres of solid wood products were
exported earning euro 108.3 million. This performance
represents an increase of 8% in terms of volume and 21%
in terms of value.

The success of 2013 exports up to November is attributed
to improved exports of sawnwood (both air and kiln dried)
and the 34% jump in exports of sliced veneer.

However, overland export of plywood to neighbouring
countries plummeted almost 35% from 81,788 cubic
metres in the same period in 2012 to just 52,677 cubic
metres in the year to November 2013.

Export earning from this product dropped from euro 25.62
million in 2012 to euros 17.15 million in the year to
November 2013.
Ghana"s export markets included Germany, Italy, France,
UK and Belgium, China, India, Thailand, South Africa,
Morocco and Cape Verde.

Inflation at new high
Ghana's annual consumer price inflation rose to a threeyear
high of 13.8 percent in January, up from 13.5 percent
in December 2013 and was driven mainly by an increase
in utilities, housing, fuel and some foods.

Services to Attract VAT
Banks in Ghana will begin charging value-added tax
(VAT) on some services excluding loans by the end of
next month, Ghana Association of Bankers Chief
Executive Office Daniel Mensah said. He added that the
Ministry of Finance, Bank of Ghana (BOG), and the
Ghana Revenue Authority are in discussions to identify
the services that will attract VAT.

Government reassures investors
In his State of the Nation Address Ghana"s President, HE
John Mahama, tried to reassured everyone that despite the
continuous fall of the domestic currency, Ghana remains
an attractive destination for investment.

Meanwhile, the government endorsed measures adopted
by the Central Bank to arrest the falling value of the local
currency.

New minimum wage rates to be announced
The Minister of Employment and Labour Relations, Nii
Armah Ashitey, has explained that a new minimum wage
will be introduced after the National Tripartite Committee
(NTC) recommendations have been fully considered.

The NTC comprises representatives of the government,
the Trades Union Congress , and the Ghana Employers
Association. Representatives of the Fair Wages and
Salaries Commission (FWSC), the National Labour
Commission (NLC) and other stakeholders also attended
the meeting.

The minister said it was important to let the public know
that, even though a final decision on the level of increase
in the minimum wage has not been decided, the
government was not idle on this matter.

The national daily minimum wage on the basis of twentyseven
working days per month was increased by 17% from
cedi 4.48 to 5.24 per day last year.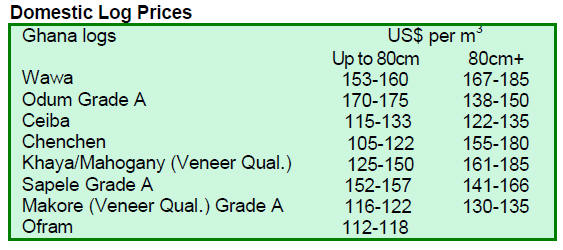 3. MALAYSIA
Industrialisation key to reduce dependence on foreign
workers
The Malaysian Ministry of Plantation Industries and
Commodities (MPIC) has established the Institute of
Malaysian Plantation and Commodities (IMPAC) to
strengthen, transform and further industrialise the
country.s plantation and commodity industries.

IMPAC will oversee the human capital development needs
of the various industries. The Board of Directors for
IMPAC is drawn from palm oil, rubber, timber, cocoa,
pepper, kenaf and tobacco industries.

The government has set the institute two main objectives:
¡¡
. to become an international training centre to meet
the needs of skilled manpower in plantations and
commodities

. to produce a knowledgeable workforce through
academic and skills-based training to meet the
needs of the commodities industry

IMPAC will run training courses tailored to the needs of
the various commodity sector. It is hoped that all future
training under the ministry and its agencies will be
rationalised under IMPAC to achieve coordination and
expanded coverage of skills.

In 2012, total commodity exports by Malaysia were
RM127.5 billion (approximately US$38.3 billion at
current exchange rates) accounting for almost 18% of all
Malaysia.s exports.

IMPAC was set up in recognition of the importance of
commodity exports to the economy and to address the
country.s over-dependence on foreign workers in the
plantations and associated processing plants.

Thailand top importer of Sabah sawnwood
The Department of Statistics in Sabah has released 2013
exports data for the state. The total volume of sawnwood
exported in 2013 was 241,889 cu.m valued at RM 359.2
mil. FOB (approx. US$107.9 mil.).

The single largest export species group was dark and light
red meranti and meranti bakau and exports totaled 68,860
cu.m valued at RM112.3 mil. FOB (approx. US$33.7
mil.).

The second largest species group exported was keruing,
ramin, kapur, teak, jelutong, kempas, mengkulang, balau
which totaled 67,176 cu.m valued at RM107.0 mil. FOB
(approx. US$32.1 mil.).

Exports of belian were 22,001 cu.m valued at RM33.1 mil.
FOB (approx. US$9.9 mil.). The main market for Sabah
sawnwood in 2013 was Thailand at 54,928 cu.m (22.7% of
total sawnwood exports) valued at RM69.9 mil. FOB
(approx. US$21.0 mil.).

The second largest importer of sawnwood from the state
was China at 39,296 cu.m (16.2%) valued at RM59.1 mil.
FOB (approx. US$17.8 mil.). Then followed Taiwan P.o.C
at 31,033 cu.m, (12.8%) Japan, 21,458cu.m, (8.9%), South
Africa, 20,106 cu.m, (8.3%) and Philippines 18,717 cu.m,
(7.7%).

Japan holds onto top spot for plywood imports from
sabah
Manufacturers in Sabah also exported 648,857 cu.m of
plywood in 2013 valued at RM1,039.6 mil. FOB
(approx.US$312.2 mil.). The main importer was Japan at
128,577 cu.m and the second ranked .importer. was
Peninsular Malaysia at 110,807 cu.m.

Other foreign export markets for Sabah plywood were
South Korea, 76,483 cu.m; USA 56,708 cu.m; Egypt
51,533 cu.m and Mexico at 49,227 cu.m.

60% of Sarawak.s 2013 log exports to India
The authorities in Sarawak have also provided 2013 export
data and this was published by the Sarawak Timber
Association.

In 2013, Sarawak exported 2,801,368 cu.m of logs worth
RM1,692.4 mil. FOB (approx. US$508.2 mil.). Exports of
meranti logs made up the bulk of exports at 1,296,014
cu.m followed by mixed light hardwood at 440,480 cu.m
and then kapur at 222,296 cu.m.

For 2013, India was the main importer of Sarawak logs
taking a volume of 1,724,838 cu.m. Taiwan P.o.C was the
second largest importer of logs from the state at 363,085
cu.m.

In 2013 Chinese imports of logs from Sarawak amounted
to just 267,094 cu.m followed by Vietnam, 177,306 cu.m.
Japan was the fifth ranked importer of Sarawak logs at
only 142,269 cu.m. Buyers in Indonesia imported 69,821
cu.m of Sarawak logs worth approximately US$4.1
million.
4. INDONESIA
Partnership for sustainable furniture production
WWF-Indonesia and ASMINDO (Furniture Industry and
Handicraft Association of Indonesia) recently formed a
partnership aimed at ¡°sustainable production and
consumption as best practice in forest product markets,
safeguarding forest value and supporting poverty
reduction¡±.

Details of this initiative can be seen at:
http://iffinaindonesia.com/partnership-between-wwfindonesia-
wwf-uk-and-asmindo/

The objective is to expand capacity building in the small
and medium sized wood processing enterprises to enable
their ability to conform to Indonesia"s timber legality
assurance system and, through this, to emphasise the
commercial link between sustainable wood product
manufacture and market demand.
Through this partnership, says the press release,
¡°stakeholders are expected to increase their technical
capacity in respect of legality and strengthen the Timber
Legality Verification System (SVLK) implementation in
Indonesia¡±.

Let the shows begin
It is show time in SE Asia with IFEX from 11 - 14 March,
IFFINA from 14 - 17 March (both in Jakarta) and
the International Furniture Fair, Singapore, (IFFS) from
13-16 March in Singapore.

Jakarta will play host to a new furniture expo, IFEX, that
the organisers say ¡°promises to deliver on Indonesia"s
legendary creativity and artistic diversity¡±. See:
http://www.ifexindonesia.com/Press_Release.php

The seventh annual IFFINA, has the theme, ¡°Eco Green¡±.
In a press release, Ambar Tjahyono the chairman of
ASMINDO, explained that this theme is to introduce the
concept of eco-friendly furniture which incorporates
environmentally friendly material selection and production
processes meeting top environmental standards. See
http://iffinaindonesia.com/eco-green-theme-of-iffina-2014/

Since its first show in 1981, IFFS has grown to become a
major regional and international event for companies
aiming to penetrate the global market. The International
Furniture Fair Singapore will be held in conjunction with
the ASEAN Furniture Show, The D¨¦cor Show and The
Hospitality 360¡ã. For more see: http://www.iffs.com.sg/

Indonesia:US commitment on combating wildlife
trafficking
Minister of Forestry, Zulkifli Hasan, and US Secretary of
State, John Kerry, signed a Memorandum of
Understanding committing both signatories to conserving
wildlife and combating wildlife trafficking.

This MoU comes on the heels of the Indonesia-USA
Comprehensive Partnership amongst others. The Indonesia
Ministry of Forestry has reaffirmed it commitment to
cooperate with international organisations to combat
trafficking and trading of regulated flora and fauna.

Consultations continue on SFM and legality issues
The Ministry of Forestry will hold multi-stakeholder
consultations at the regional and national levels to
strengthen standards and guidelines for implementing
SFM and timber legality verification. This activity is a
follow up to the agreement between Indonesia and the EU
on the Action Plan for the FLEGT ¨C VPA.

Finding sustainable solutions for the palm oil sector
An international conference on oil palm and the
environment under the theme ¡°Oil palm cultivation:
Becoming a model for tomorrow"s sustainable agriculture¡±
was recently concluded.

Participants sought to respond to challenges in minimising
deforestation, mitigating greenhouse gas effects and the
conservation of biodiversity.

The oil palm industry is seen in a negative light in many
quarters however, WWF Indonesia CEO, Efransjah, said
improvement of cultivation practices are the key to
transforming the negative image of the palm oil industry.

In a press release WWF Indonesia says ¡°the palm oil
industry is one of the most lucrative industries in
Indonesia where 4.5% of 2012 GDP came from this
commodity. But environmental concerns always loom
high in the industry as expansion of palm oil plantations
become the main driver of deforestation and the loss of
biodiversity in Indonesia¡±.

The urgency to find sustainable practices for this sector
encouraged WWF-Indonesia along with CIRAD and PT
SMART Tbk to convene the fourth International
Conference on Oil Palm and Environment (ICOPE) on 12-
14 February 2014.

Indonesian economy already adjusted to negative
effects of US monetary "tapering"
Analysts have been quick to point out that the decision of
the US Federal reserve to slow its asset accumulation has
had a far reaching and negative impact on emerging
economies.

While this is largely correct Indonesia has, it seems,
adjusted already as investor and consumer confidence has
improved in recent weeks. The Indonesian stock market
has jumped significantly as foreign investors increase
holdings of Indonesian shares.

Because of the inflow of cash the Indonesian rupiah has
also strengthened and the upward momentum of the rupiah
was boosted by news of the US$1.5 billion trade surplus
for December.

Adding to the good news, the ANZ-Roy Morgan
Indonesian Consumer Confidence survey reports an
improvement in January consumer sentiment as more
Indonesians are confident about the domestic economic
outlook.

For more see: http://www.anz.co.nz/commercialinstitutional/
economic-markets-research/consumerconfidence/

Interest rates on hold
The Bank Indonesia has decided to maintain interest rates
at 7.50%, a decision consistent with the tight monetary
policy stance currently adopted in order to steer inflation
back towards the Bank"s target of 4.5 (plus minus1%) in
2014.

For more see: http://www.bi.go.id/en/ruang-media/siaranpers/
Pages/SP_160814.aspx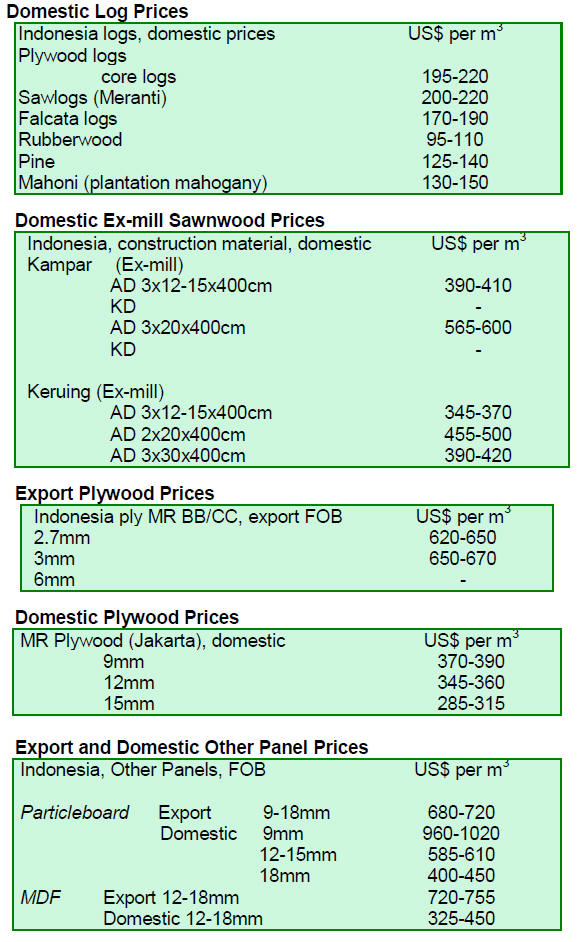 5. MYANMAR
Date for final payment for export logs revised
Export shipments from 1 April 2013 to end January 2014
are estimated to have been 397,807 cu.m of teak logs and
1,307,095 cu.m of other hardwood logs.

Total export shipments for the 2012-13 fiscal year were
494,650 cu.m of teak logs and 1,561,540 cu.m of other
hardwood logs.

Though shipments this year are likely to exceed those of
the previous year, analysts do not expect to see any
significant change in export volumes. However, recently
shipments from Yangon Port have increased.

It has been reported that the date for final payment for logs
that are ready to be exported has been extended to 31
March 2014 rather than the previously announced date of
28 February 2014. However, overseas buyers are advised
to ship all logs by midnight 31 March 2014.

Logs that are not shipped before the 1 April deadline will
have to be processed in some way in Myanmar.

The date for final payment of these logs has been extended
to 30 September 2014 instead of the previously announced
30 June 2014. For further details please contact Myanma
Timber Enterprise.

Where to now Myanmar timber industry?
For decades Myanmar has been a major exporter of logs
but now a ban on log exports will be introduced and at the
same time the log harvest volumes will be drastically
reduced.

Analysts point out that if raw material availability is
reduced too far then neither existing domestic mills nor
any new mills established by local or overseas investors
will have sufficient logs and ask, will the Myanmar timber
industry need to import logs like in India, Thailand, and
Vietnam?

Following on from this, what would be the import duty
and tax implications for local processors? A clear "road
map" for the future of the timber industry in Myanmar is
needed says one analyst.

Limit on size of private plantations suggested
The MOECAF Deputy Minister Aye Myint Maung, during
a visit to Bago Division, said that the establishment of
private teak and hardwoods plantations began 2006 and
that to date 43,444 ha. of teak and 20,968 ha. of other
hardwoods have been established.

On this topic Forest Research and Environment
Development and Conservation Association (FREDA)
Chairman Ohn, has suggested that private company
plantations should be limited in size and that communities
should be encouraged to establish plantations.

Muse (China border) trade figures
The value of trade from 1 April 2013 to end January 2014
through the Muse border crossing with China exceeded
US$3 billion according to the Directorate of Commerce, as
reported by the Myanmar press (Daily Eleven Feb 20).

Of this amount the value of commodity exports, including
agriculture products is reported at US$ 1.9 billion, some
US$606 million more than during the same period in the
last financial year. The value of seized goods along Muse-
Mandalay route is said to have exceeded US$3.5 million
last year.
Teak and hardwood prices
The following items were sold by competitive bidding on
21and 24 February 2014 at the Myanma Timber
Enterprise (MTE) tender hall.

6. INDIA
Good news on wholesale prices
A press release from the Office of the Economic Adviser
to the Indian government provides details of the trend in
the Wholesale Price Index (WPI).

The official Wholesale Price Index for "All Commodities"
(Base: 2004-05 = 100) for the month of January 2014
declined by 0.2 percent to 178.9 (provisional) from 179.2
(provisional) for the previous month.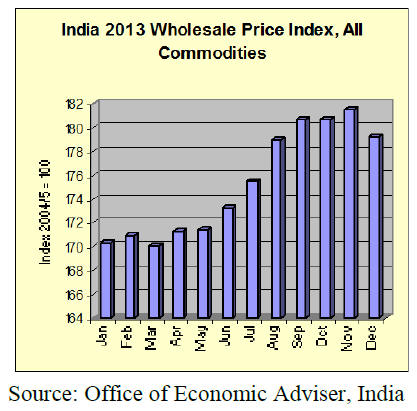 In other encouraging news it has been revealed that the
annualised rate of inflation, based on the monthly WPI,
stood at 5.05% for January 2014 compared to 6.16% in
December 2013 and 7.31% in January 2013.
See: http://www.eaindustry.nic.in/

However, the Reserve Bank of India has cautioned that
core WPI inflation worsened to 3 percent last month, its
highest since early 2013.

Timber and Plywood Wholesale Price Indices
In addition to data on the Wholesale Price Index for all
commodities, the Office of the Economic Adviser to the
Indian government also reports data on wholesale price
movements for a variety of wood products.

The Wholesale Price Indices for Logs/timber and Plywood
are shown below. Despite the depressed housing market
plywood prices changed little during 2013 whereas the
Logs/timber index has shown considerable volatility.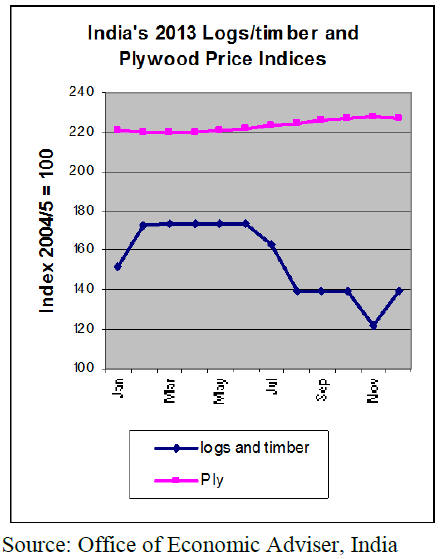 Global real estate consultancy launches India.s first
real estate sentiment index
Knight Frank India Pvt. Ltd., in association with the
Federation of Indian Chambers of Commerce and Industry
has released the first of its real estate sentiment index
reports on the Indian real estate market conditions from
the house builder and sellers point of view.

Knight Frank, with a HQ in London, is a global real estate
consultancy with an integrated prime commercial and
residential offering, operating in key hubs across the
globe. a global real estate consultancy. The latest news
released on Indian real estate market sentiment can be
found at :

http://www.knightfrank.co.in/news/knight-frank-indialaunches-
india%E2%80%99s-first-real-estate-sentimentindex-
today-02574.aspx

Quoting from the news release the latest report says:

. Stakeholders feel the real estate market has
deteriorated compared to the last six months
. Current sentiments are pessimistic across all
zones
. East and South remain marginally more
optimistic compared to the rest of the country
. Credit lending/ funding situation may also remain
muted in the near future
. While there remains an evident optimism for the
residential sector, the office market on the other
hand is expected to be pessimistic in the coming
two quarters
. Larger project completions at a time when
business growth and employee addition remain
weak, will lead to higher vacancy levels in the
Indian office market
. Majority of the respondents are positive about the
economic scenario and expect an improvement in
the next six months

Auction of Sandalwood (Santalum album) in Kerala
On 5 February one of the largest sandalwood auctions was
held at Marayoor, Kerala.

Despite rampant poaching of sandalwood in the four
southern states of India, the Forest Department of Kerala
was able to protect some 8,500 acres of natural forest rich
in sandalwood in the Marayoor Kanthalloor forest reserve
in Western Ghats.

The sandalwood here is carefully tended and a seed farm
has been established as most of the sandalwood trees are
over 60 years old.

For the recent auction the Forest Department does not
harvest living trees but collects dead and storm blown
trees as well as fallen branches. Every year, several tons of
sandalwood is collected, stored and then auctioned at the
Government Sandalwood Depot.

A large number of buyers from temples, oil factories,
traditional medicine manufacturers and handicraft
factories bid for this precious fragrant wood.

At the auction last year 40 tons of sandalwood were sold
for Rs. 330 million. The average price was around
Rs.6000 per kg. This year a total of 38 tons of sandalwood
was sold for the following prices:

Class II Rs.7810 per Kg.
Class V Rs.7640 per Kg.
Class VI Rs.6925 per Kg.
Class VII Rs.6711 per Kg.
Roots 2nd class Rs.6507 per Kg.

Maharashtra natural forest loss
A recently released report tracking climate change in India
has suggested Maharashtra state lost 2,116 sq.km of
natural forest area over the past twenty years.

On the other hand the report notes that the state has also
gained 5,030 sq km of forest cover in the period 1987-
2011. However, the forest cover gain includes rubber and
teak plantations.

The authors of the report say the government needs to
rethink its forest compensatory policy to emphasise the
need to regenerate natural forests and not merely
compensate the loss of natural reserves with plantations.

Imports of plantation teak
India.s total imports of wood and wood products under HS
chapter 44 for the month of January 2014 were valued at
US$269.52 million while exports under the same chapter
were US$28.88 million. Wood product imports continue to
grow as domestic demand continues to be firm.
Current C & F prices for imported plantation teak, Indian
ports per cubic metre are shown below.

Prices for domestically sawn imported logs
Prices for air dry sawnwood per cubic Foot, ex-sawmill
are shown below.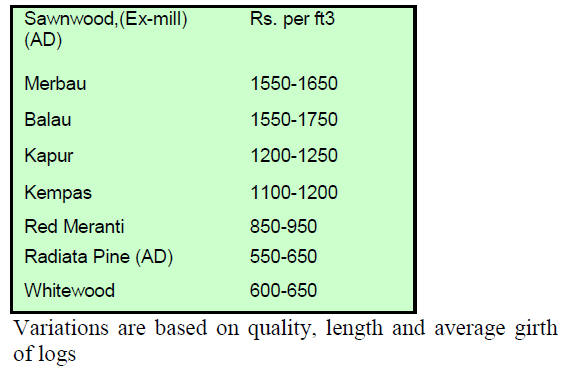 Myanmar teak processed in India
Export demand continues to be good but domestic demand
reportedly sluggish.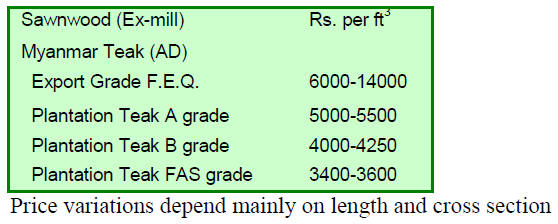 Imported sawnwood prices
Ex-warehouse prices for imported kiln dry (12% mc.)
sawnwood per cu.ft are shown below.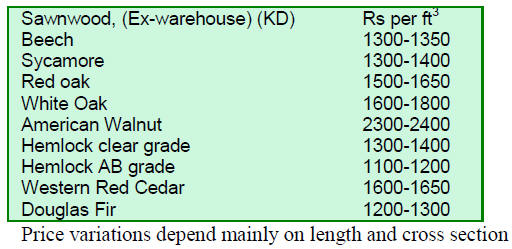 Plywood market gets slight boost
Plywood manufacturers report continuing weak market
conditions, the only bright spot being in the industrial
sector where some growth in investment is giving a mild
boost to demand for plywood. Prices remain unchanged.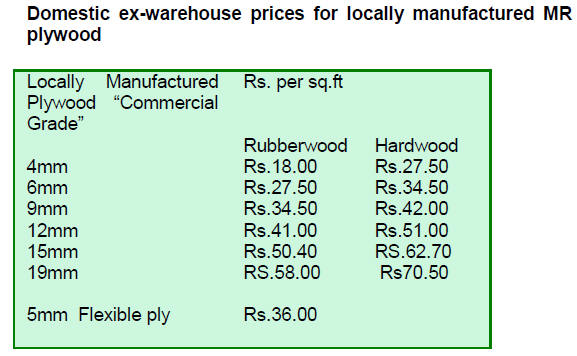 7. BRAZIL
Central Bank claims success in fight against inflation
The Governor of the Brazilian Central Bank has defended
the actions of the Bank in addressing inflation. Rather than
blaming the winding down of the easy money policy in the
US, the Bank chief said this was good news for the global
economy as it was a sign that the US economy was
strengthening.
Never-the-less, the change in the US is putting pressure on
emerging economies such as Brazil.s and the Central Bank
has responded to the inflationary pressures by increasing
interest rates.

The Bank has also utilised foreign exchange reserves to
ease the impact on domestic businesses from the sharp fall
in the value of the Brazilian currency over the past year.

In other news in support of the success of the Central
Bank, the National Consumer Price Index (IPCA) slowed
down to 0.55% in January 2014, the lowest rate since
2009. In January 2013, IPCA was 0.86% while in
December 2013 inflation was 0.92%.

New challenge, recession in 2013 to impact 2014
prospects
Central Bank preliminary data on GDP suggests that,
technically, the Brazilian economy dipped into recession
in the second half of 2013.

According to the latest releases from the Central Bank,
GDP shrank 0.2 per cent in the final quarter of 2013
following on from a similar dip in the third quarter. Final
2013 GDP figures will be available on February 27.
For more see http://www.bcb.gov.br/?red-indicators

Arbitrary tax structure weakening forest sector
Forest sector businesses in the State of Mato Grosso
recently met with the Department of Finance for the state
(SEFAZ) to discuss the system for collecting price
information to define wood prices used by state authorities
to determine taxes .

Until now the base price for tax determination was decided
unilaterally by SEFAZ but now the system has been
changed and prices are closer to actual trade values
however, enterprises in the state want this refined further.

The purpose of the price collection system is to try and
discourage mis-reporting by companies and to serve as a
reference to determine the ICMS tax (Tax on Circulation
of Goods and Services).

According to the Mato Grosso Center for Wood Industries
Producers and Exporters (CIPEM), only 30% of the forest
sector¢¥s potential is being utlised because of a lack of
incentives. This says CIPEM is resulting in low
productivity, low profitability, poor job creation and low
state revenues.

High taxes in the forest sector have been a problem in the
State of Mato Grosso for a long time and have resulted in
the closure of many businesses says the Industries
Federation of Mato Grosso (FIEMT). FIEMT says over
the past five years a thousand businesses have closed. Ten
years ago there were 393 plywood, veneer and panel
manufacturers but today only four industries remain.

Local entrepreneurs say the main problem in the sector is
the excessive tax burden which means businesses in the
state are unable to compete with timber enterprises in
other states where taxes are lower.

Forest concession plan for 2014
According to the Brazilian Forest Service (SFB), the 2014
Annual Plan for Forest Concession (PAOF) is the result of
consultation between governmental agencies, such as the
Chico Mendes Institute for Biodiversity Conservation
(ICMBio), the Secretariat of the Union Assets
(SPU/MPOG), the National Defense Council (CDN) and
the Public Forest Management Committee (CGFLOP).
Public hearings are also conducted to secure the option of
as many stakeholders as possible.

According to the Brazilian Institute of Geography and
Statistics (IBGE), when the 2.8 million ha scheduled for
allocation are under effective forest management they
have the potential to produce about 1.3 million cubic
metres of roundwood per year, approximately 10% of the
log production in the Amazon(13.5 million cubic metres in
2012).

Of the total area to be allocated in 2014, 11 concessions
will be in National Forests (FLONA) and others will be in
the States of Acre, Amazonas, Para and Rondonia.

Most of national forests in the state of Para included in the
Plan are located in the region along the BR-163 Highway
(Cuiaba . Santarem).

January export review
In January 2014, the value of wood products exports
(except pulp and paper) increased 3.3% compared to
January 2013, from US$168.7 million to US$ 174.2
million.
The value of pine sawnwood exports increased 35% in
January 2014 year on year from US$10.3 million to
US$13.9 million. In terms of volume, pine sawnwood
exports rose 28%, from 47,600 cu.m to 61,000 cu.m over
the same period.

In contrast, tropical sawnwood exports fell 8.8% in
volume, from 25,000 cu.m in January 2013 to 22,800 cu.m
in January 2014 but the decline in the value of exports was
not as steep declining by only 4.2%.

Pine plywood exports declined over 12% in value in
January 2014 compared to January 2013, from US$31
million to US$27.2 million. Export volumes in January
2014 fell 11%, to 74,900 cu.m. from the 84,200 cu.m in
January 2013.

There was a startling decline of 59% in the volume of
tropical plywood exports in January this year. Exports fell
from 5,400 cu.m in January 2013 to just 2,200 cu.m in
January this year.

On a brighter note, the value of wooden furniture exports
increased from US$28 million in January 2013 to almost
US$30 million in January 2014 (plus 6.4% year on year).

Joint venture investment in sawmilling
A German business group from Darmstadt City and the
Envira Municipality State of Amazonas have established a
joint venture to invest some R$300 million in the wood
processing sector in the municipality. The first sawmill
production line will begin operations in April this year and
this will create around 120 new jobs.

The proposal submitted by the German business group
was assessed by state environmental technicians who
looked at the proposed management and quality
performance system to be applied in forest operations, the
level of local processing, the use of technological
innovations and the impact on the local community.

This investment will represent an important addition to the
economy of the municipality and will generate higher tax
revenues for Envira.

After recording a 140% growth between 2009 and 2011,
the timber industry in the municipality grew only 6% in
2012 but this dropped sharply in 2013 because of reduced
logging and consequent rising prices for raw materials.

This new investment aims to reverse the decline in output
from the timber sector in the municipality.

Wooden door manufacturers" mission to Spain
Representatives of wooden door manufacturers
participating in the ABIMCI Sectoral Program of Internal
Wood Door Quality programme recently visited the
¡°Fimma Maderalia¡± Fair, which brought together
international suppliers of wood / frame and furniture
sector.

Besides visiting the fair, the entrepreneurs participated in
meetings with machinery and equipment manufacturers, as
well as suppliers of raw materials and accessories and door
manufacturers in Spain.

According to ABIMCI, technical cooperation with other
countries and exposure to new products and equipment
will bring significant benefits to industries participating in
the certification programme.

Price trends
As is the case with other tropical timber suppliers,
Brazilian prices remain unchanged.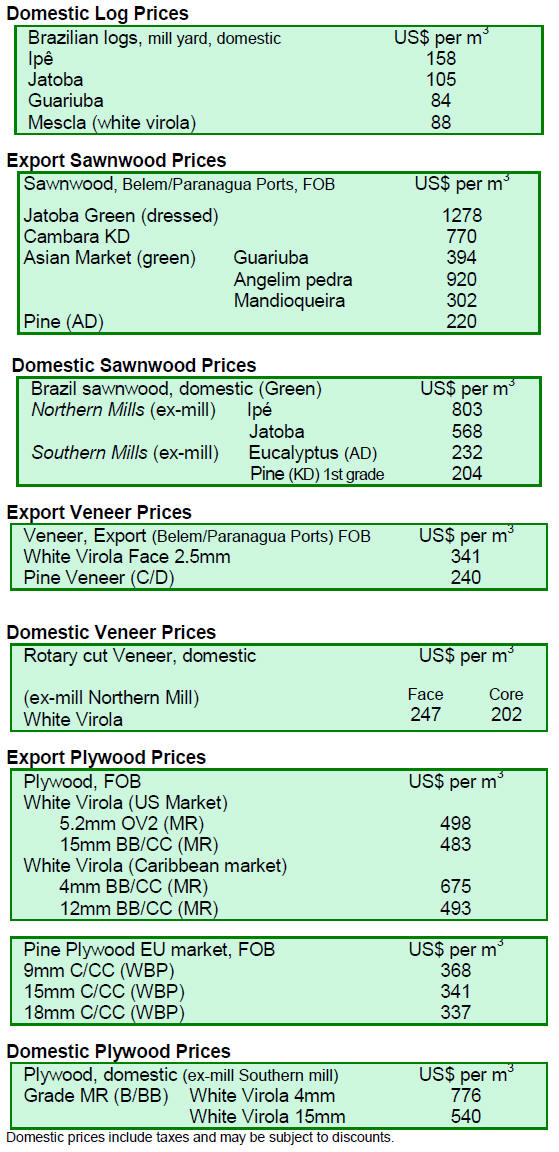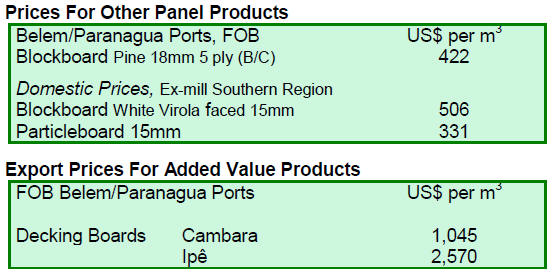 8. PERU
GDP growth figures looking good
The National Institute for Statistics and Information has
released growth figures for late 2013 which show the
economy grew 5% in December compared with the same
month a year earlier. 2013 GDP is expected to come in at
5.5% and the forecast is for 2014 GDP to expand by over
6%.

During the year construction activity expanded almost 9%
which drove demand for sawnwood. In addition growth in
the retail sector was almost 6%.

Business conditions improving
A recent survey by La C¨¢mara de Comercio de Lima
(Lima Chamber of Commerce) has concluded that small,
medium and large entrepreneurs are optimistic about
prospects for 2014 and want to continue investing.

The survey asked about the financial situation of
entrepreneurs and two thirds of respondents said they
expected business to improve over the next six months
with only a small group saying conditions are likely to
worsen. In the October 2013 survey less than half thought
their businesses improved in the short-term. Companies
have also indicated that they expect to increase the work
force.

For more see:
http://www.camaralima.org.pe/principal/noticias/noticia/tr
anquilidad-para-los-emprendedores/124

Bridging financial gap for forestry enterprises
In early March a event will be held bringing together
forestry and wood processing industries and financial
institutions with the aim of bridging the financing gap
between these institutions and forestry sector enterprises in
Peru.

The event will bring together small and medium forest and
timber enterprises as well as producer organisations to
provide one-on-one meetings with financial institutions.
The goal of this event is to help producers in Peru obtain
adequate finance. This event is an initiative of the Alliance
for Sustainable Trade.


9. GUYANA
Mora log prices encouraging
Exports of purpleheart and mora logs continued in the
period reviewed but there were no exports of greenheart
logs.

Purpleheart log FOB prices saw some changes but the
Standard Sawmill quality log top end price of US$385 per
cubic metre remained unchanged.

However, Fair Sawmill quality purpleheart logs attracted a
favourable price of US$300 per cubic metre FOB, while
Small Sawmill quality logs were traded at a fair FOB price
of US$150 per cubic metre.

FOB prices for all categories of mora logs improved. Mora
Standard Sawmill quality top end prices increased to
US$160 per cubic metre followed by Fair Sawmill quality
at US$140 per cubic metre and finally Small Sawmill
quality mora log top end prices were US$130 per cubic
metre. The Asian markets, mainly China and India, were
the major buyer of Guyana.s logs during the period
reviewed.

Sawnwood export markets were diverse and delivered
favourable prices for Guyana.s sawnwood which resulted
in a favourable contribution towards the total export
earnings from wood product exports.

Undressed greenheart (Prime quality) recorded an increase
in price from US$955 to US$1,058 per cubic metre FOB
in the Middle East market of Kuwait where the timber is
used for both indoor and outdoor structural applications.

Undressed greenheart (Select quality) FOB prices slipped
from US$1,209 to US$1,060 in the period reviewed.
However this category of sawnwood was widely traded in
Caribbean, European, Middle Eastern and North American
markets.

Additionally, Undressed purpleheart (Select quality) FOB
top end prices fell from US$1,378 to US$1,000 per cubic
metre, while in the Sound quality sawnwood FOB prices
were an encouraging US$1,008 per cubic metre. Buyers in
the Caribbean and New Zealand continue request this
product.

Prices for Undressed Mora Select quality increased from
US$594 to US$785 per cubic metre FOB in the North
American market.

During this period Dressed sawnwood secured favourable
FOB prices with the Caribbean being the primary export
market.

Dressed greenheart FOB top end prices rose from
US$1,060 to US$1,272 per cubic metre FOB while
Dressed greenheart of Prime quality FOB prices moved to
as high as US$1,124 per cubic metre. Similarly, Dressed
purpleheart prices improved from US$1,102 to US$1,160
per cubic metre FOB.

Opportunities for investors
The Guyana Forestry Commission is promoting the
potential of the timber sector as a very profitable option
for foreign investors. Whether for constructing a home or
producing beautiful value added products Guyana.s
timbers can be utilised for a wide variety of products.

According to the World Bank survey .Doing Business
2013., Guyana has improved its ranking through providing
foreign investors equal access to opportunities and this has
led to a growth in investment.

The Forestry Sector is expected to attract more private
investors as the Forest Products Development and
Marketing Council (FPDMC) continues to promote the use
of lesser known species for high value products.

Because Guyana will conclude a Voluntary Partnership
Agreement (VPA), with the European Union wood
product exporters will secure good access to European
markets.

Increased loans to forestry sector
According to the latest Bank of Guyana, Statistical
Abstract, monthly private commercial bank loans and
advances to forestry and wood product manufacturing
enterprises between January and September 2013 averaged
G$552 million.

This represents a 3.6% increase when compared to the
G$533 million in the same period in 2012. In January
2013 alone loans valued at G$630 million were made
while in August 2013 loans fell to a modest G$486.6
million. Analysts point out that the increased level of loans
is indicative of the opportunities in the sector.

Update on Guyana.s EU FLEGT VPA Process
The authorities in Guyana are currently focussed on
stakeholder engagement activities within the forest sector.
These have generated useful inputs for the VPA process,
specifically the Legality Definition. An updated version of
the document defining legality is expected to be available
within a few weeks.

The first draft of the Communication and Consultation
Strategy should be complete by the end of February.
Work on the Scoping of Impacts Assessment continues.