Report from North America
Hardwood plywood imports up again
US imports of hardwood plywood grew to 347,359 cu.m
in October, up 58% from the previous month. Almost all
supplier countries gained from the higher import volume,
with the exception of Russia.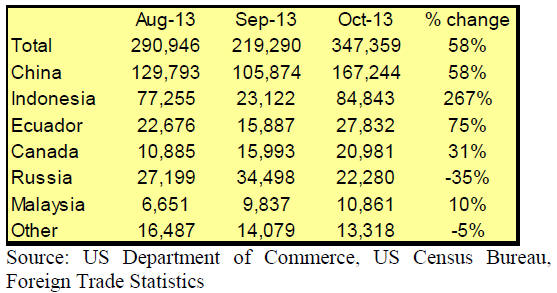 The largest increases were imports from from Indonesia
(84,843 cu.m, +267% from September) and China
(167,244 cu.m, +58% from September).

While imports from China were higher than at any other
time in the last six months, total imports in 2013 to
October were still 15% lower than at the same time in
2012.

More hardwood moulding from China
Hardwood moulding imports fell to US$13.9 million in
October, down 7% from the previous month. However,
hardwood moulding imports from China grew by 12% to
US$4.5 million.

Brazilian shipments of mouldings declined by 19% to
US$3.2 million and imports from Malaysia were down
43% from September.

Higher flooring imports from Indonesia and Malaysia
Hardwood flooring imports were US$3.0 million in
October, up from September, but imports remain lower
than at the same time in 2012. Indonesia and Malaysia
were the largest hardwood flooring suppliers in October.
Imports from Canada and China declined.

October imports of assembled flooring panels are also
lower than last year, but flooring panel imports from
Europe increased significantly in October. Total October
imports were worth US$8.8 million. Imports from China
fell by 11% to US$4.8 million.

Furniture imports remain strong
US imports of wooden furniture remained strong at
US$1.23 billion in October. Year-to-date imports were 6%
higher than in October 2012. China"s shipments accounted
for 49% of total US imports in October. Vietnam"s import
share recovered to 16%.

China"s furniture shipments to the US were US$598.7
million in October. Imports from Vietnam increased to
US$201.2 million, but year-to-date imports were 11%
lower than in October 2012.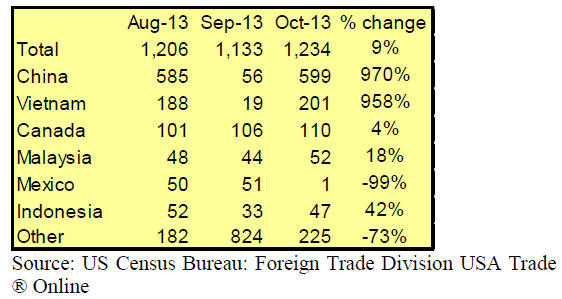 Furniture imports from Malaysia and Indonesia increased
by 18% and 43%, respectively, from the previous month.

Furniture market update
The furniture market continued to slowly improve
according to the latest data by Smith Leonhard (Smith
Leonhard Furniture Insights November 2013). However,
relatively low consumer confidence is holding back
demand.

New furniture orders increased in the third quarter of 2013
and most companies (80%) reported higher orders
compared to 2012.

Total furniture orders in 2013 until September were 6%
higher than at the same time last year.

Furniture and home furnishing retail sales slightly up
Retail sales at furniture and home furnishing stores grew
in October after a brief decline in September according to
the US Census Bureau.

October sales were US$8.4 billion, up 1% from
September. Retail sales were 8% higher than in October
2012. Sales figures include both furniture and other home
furnishing items, with furniture typically accounting for
50-60% of sales.

Survey identifies species use in cabinets and furniture
The Woodworking Network has assessed recent trends in
wood species from the High Point Furniture Market and
industry associations.

For kitchen cabinets dark finishes and colours have
become more common than white/light and medium
finishes. Kitchens include different species and finishes on
different cabinets and furnishings.

Cherry, maple and alder remain popular, but their use has
declined. Use of the following species has grown: oak,
walnut, birch and bamboo. Demand for rift sawn white
oak is up. Rift sawing is the most costly type of
production, but the boards are very stable and have a
distinctive tight grain.

American cherry is the most popular species in bedrooms,
dining rooms and entertainment centres. Red oak is the
most used species in home office furniture.
The tables below provides an overview of the most
popular wood species in furniture by room type, based on
the 2012 survey by the Appalachian Hardwood
Manufacturers at the High Point Furniture Market.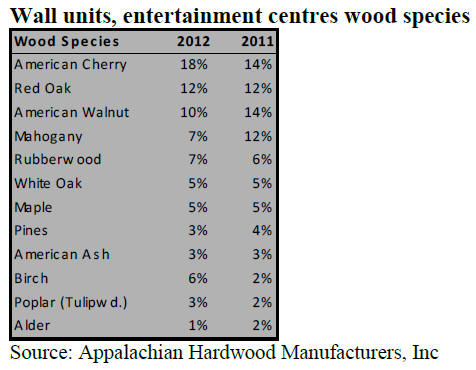 Lower unemployment
Unemployment declined to 7.0% in November. This is the
lowest rate since 2008. Employment grew in
transportation and warehousing, health care and
manufacturing, according to the US Department of Labor.
Furniture manufacturing companies reported growth in
November, but wood product manufacturing declined,
according to the Institute for Supply Management.

Despite the overall decline in wood product
manufacturing, many companies are reporting better
market conditions than normally at this time of year.

Consumers expect slow economic growth in 2014
Consumer confidence in the US economy improved in
November, according to the Thomson Reuters/University
of Michigan consumer sentiment index. The improvement
was mainly in higher income households. Lower income
households reported declines in their incomes. Consumers"
view of government economic policies remained negative.
Consumers expect the economy to grow in 2014, but only
slowly.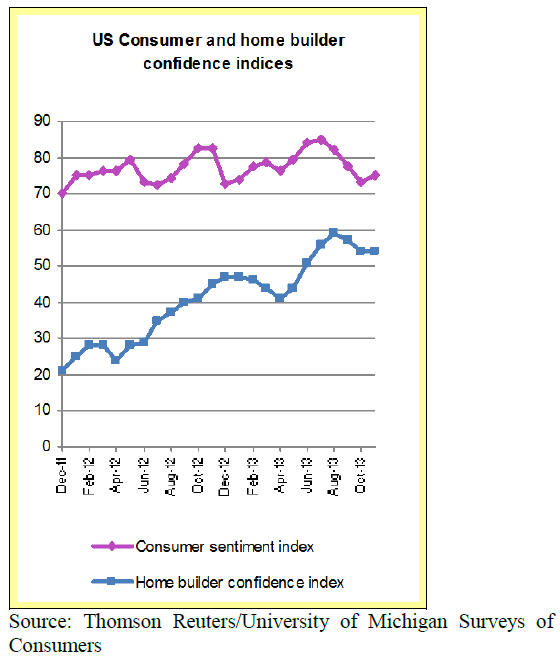 Construction cost still affecting home builders¡¯
confidence
Most housing markets across the country are slowly
climbing back to normal levels according to the National
Association of Home Builders. Several markets are
already above normal levels, including smaller cities such
as Oklahoma City, Austin, and Houston in Texas and
Pittsburgh.

Builder confidence in the market for newly built singlefamily
homes remained unchanged from October.
Consumers appear uncertain about the economic outlook,
while builders face rising costs of construction. Home
builders" confidence was highest in the West and Midwest
in November.

Home prices outpace income growth
The number of building permits for residential
construction was over 1 million in October, at a seasonally
adjusted annual rate. This is 5.2% higher than in
September and 13.9% higher than in October 2012. The
increase was primarily in permits for multi-family housing
construction.