Japan Wood Products Prices
Dollar Exchange Rates of 10th January 2014
Japan Yen 104.17
Reports From Japan
2014 GDP to slow
The Japanese government has forecast that GDP will grow
by 1.4% in the fiscal year beginning April 2014. This level
of growth is well below the 2.6% rate forecast for 2013
and reflects the anticipated impact of the consumption tax
increase set for April this year.

The government has also indicated it expects consumer
prices to rise in 2014, even discounting the impact of the
consumption tax increase.

In 2013 the Bank of Japan launched a massive monetary
stimulus programme to break the deflationary cycle in the
country. The aim is to achieve a 2% rate of inflation in two
years.

A recent press release after a meeting of the Bank of Japan
(BoJ) indicated that there was some concern that the pace
of economic growth was slowing.

This could mean the BoJ will maintain the monetary
easing policy to support the recovery and this seems more
likely as the US Federal Reserve reduces its debt
purchases.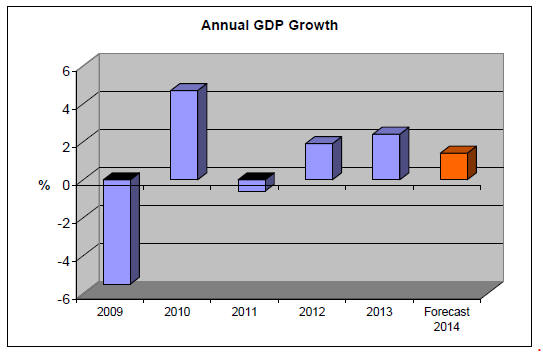 Consumption tax increase to dampen consumer
demand
Short-term economic growth has been boosted through the
policies adopted by the Japanese government however;
sustaining growth remains a challenge given the very high
level of government debt to GDP and the declining
workforce, the result of the aging population in Japan.

The government has found itself very short of funds to
finance many of the reforms promised during the election
but is committed to raising the consumption tax from 5%
to 8% as of April this year.

The impact of the tax increase on the cost of living is sure
to dampen consumer demand.

The government is determined to break the deflationary
cycle which has plagued Japan for a decade and monetary
easing and well directed fiscal stimulus will be key to
maintaining economic expansion in 2014.

If Japan is successful with these measures then trade and
investment flows in the Asia-Pacific should improve
giving a boost to regional growth.

Yen weakens to 105 to the US dollar
The yen weakened to105 to the US during December
2013, the lowest it has been for several years. On a tradeweighted
basis, the yen dropped 15% in 2013 and is down
around 35% from its high in mid 2012.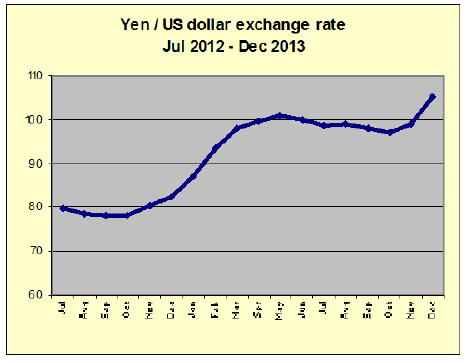 The devaluation of the yen has strongly influenced the
Japanese stock market and has buoyed the prospects of
export companies whose stock performance was
remarkable in 2013.

In local currency terms, Japanese shares rose almost 50%
in 2013 far better than all other major developed markets.

However, in dollar terms Japanese stocks are up a little
over 24%, slightly below the improvement in the US
equity market

November housing starts beat expectations
Housing starts in November 2013 beat analysts
expectations and were higher than forecast according to
data from the Ministry of Land, Infrastructure, Transport
and Tourism.

See:www.mlit.go.jp/toukeijouhou/chojou/stat-e.htm

The November 2013 14% year-on-year rise in housing
starts comes after the 7% increase in October. Analysts
had expected a gain of just under 10%. As of November
2013 annualised housing starts were set to total 1.033
million, slightly down from 1.037 million anticipated in
October but still well ahead of the 990,000 figure which
was forecast at the beginning of 2013.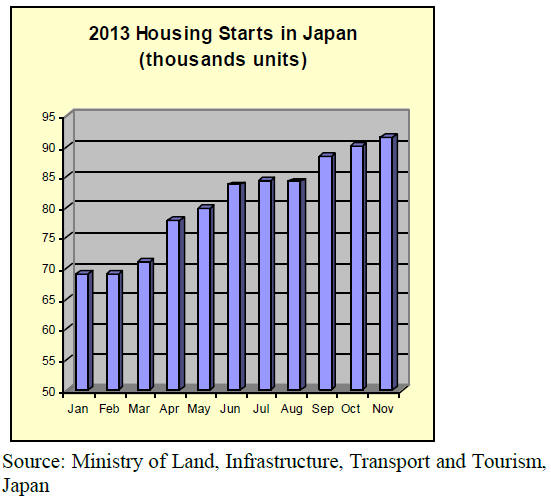 Order books for major construction companies are firm
but grew by only 2.2% in November 2013, a significant
decline from the 6% rise in orders reported in October.
The November expansion of new orders was the lowest in
seven months.
Trade news from the Japan Lumber Reports (JLR)
The Japan Lumber Reports (JLR), a subscription trade
journal published every two weeks in English, is
generously allowing the ITTO Tropical Timber Market
Report to extract and reproduce news on the Japanese
market.

For the JLR report please see:
http://www.nmokuzai.
com/modules/general/index.php?id=7

LDP promotes wood use for public buildings
The Parliamentary Association of the Liberal Democratic
Party for promotion of wood use adopted resolution
regarding promotion of wood use for large buildings with
mitigation of limit of fire proof buildings and limit of
stories of school buildings, which needs revision of the
Building Standards Act.

It requires the Ministry of Land, Infrastructure and
Transport, Forestry Agency and the Ministry of Education,
Culture, Sports, Service and Technology building of three
stories wooden school buildings.

Establishment of Kitakami Plywood
Through four Seihoku group companies" investment,
Kitakami Plywood is established. Total capital is 100
million yen. Hokuyo Plywood is the main investor with
50% share. Akita Plywood and Seihoku put up 20% each
then Shin Akimoku joins with 10%.

The new plant locates in interior of Iwate prefecture so
that it will use locally produced domestic logs only.

Plan of first phase is to build a plant, which consumes
100-120 M cbms of logs a year to produce about thee
million sheets of plywood (12 mm thick/3x6). The items
of production are structural panel, coated concrete forming
panel and floor base panel.

President of Seihoku group, Mr. Inoue commented that
there is huge stock of domestic timber with ample growth
so that there are mushrooming number of biomass power
generation facilities recently but infrastructure of log
production is immature and incomplete so unless the gap
is solved, there is strong uneasiness of stable supply of
logs when looking at business for long term. In short, there
is plenty of timber and the demand is growing but the
system to harvest for stable supply is not there.

Oshika increases adhesive prices
Oshika Corporation (Tokyo), adhesive manufacturer,
decided to increase sales prices of phenol adhesive for
plywood manufacturing as of December 21 because of
higher cost of methanol and benzene.

According to the customs statistics made by the Ministry
of Finance, CIF prices of imported methanol in October
was 41.6 yen per kilogram, 10 yen higher than the prices
in October last year.

Further, Metax of Canada, the leading methanol
manufacturer and marketer revised the prices for Asian
market in November to $520 per ton, $30 higher than
October.

Major methanol plants in Indonesia and Saudi Arabia are
down by periodical repair and maintenance then the
supply from Iran is dropping while the demand of China
increased by about 10%. Domestic manufacturers like
Mitsubishi Gas Chemical and
Mitsui Chemical announced price hike.

By price increase of methanol, the main material to make
formalin, Oshika announced higher prices. The price
increase is 12% on phenol adhesive and 10% on urea
adhesive and 7% on melamine adhesive.

Price of benzene, raw material for phenol, is up due to
weak yen. The price shot up to over 130 yen per kilogram
in November, about 20% higher than November last year.

Plywood market trends
Brisk demand of domestic softwood plywood by house
builders and precutting plants continues.

October production and shipment were the all time high.
The production was 237,600 cbms, 11.1% higher than the
same month a year ago and the shipment was 245,700
cbms, 11.9% more then the inventories were 139,000
cbms, about 8,000 cbms less
than September. November would be the same as October.

The manufacturers think that the demand may further
expand through the peak in next February.

In November, the demand by wholesale channel also gets
busy so that orders to the manufacturers increased.
Shortage of truck is serious now and in December,
deliveries to the wholesalers take two weeks to one month.

Import plywood prices in Tokyo market are soaring
rapidly. Export FOB prices by the suppliers hit the bottom
in late October then the prices have kept increasing. At the
same time, the yen has depreciated considerably by over
20 yen per dollar, which push the imported yen cost up.

Then the arrivals stayed low since last September and the
inventories in Japan have continued dropping. The
importers and wholesalers suffered a gap between high
imported cost and low market prices so they were not able
to purchase future cargoes. In late November, after the
inventories declined and the cost climbed, the importers
escalated the sales prices all at once to cover the gap.
Thus, the market prices inflated
rather sharply.

In Tokyo market, 3x6 concrete forming panel prices are
1,170 yen per sheet delivered, 70 yen up from November.
3x6 concrete forming for coating prices are about 1,280
yen, 50 yen up. 12 mm structural panel prices are 1,200
yen, 70 yen up.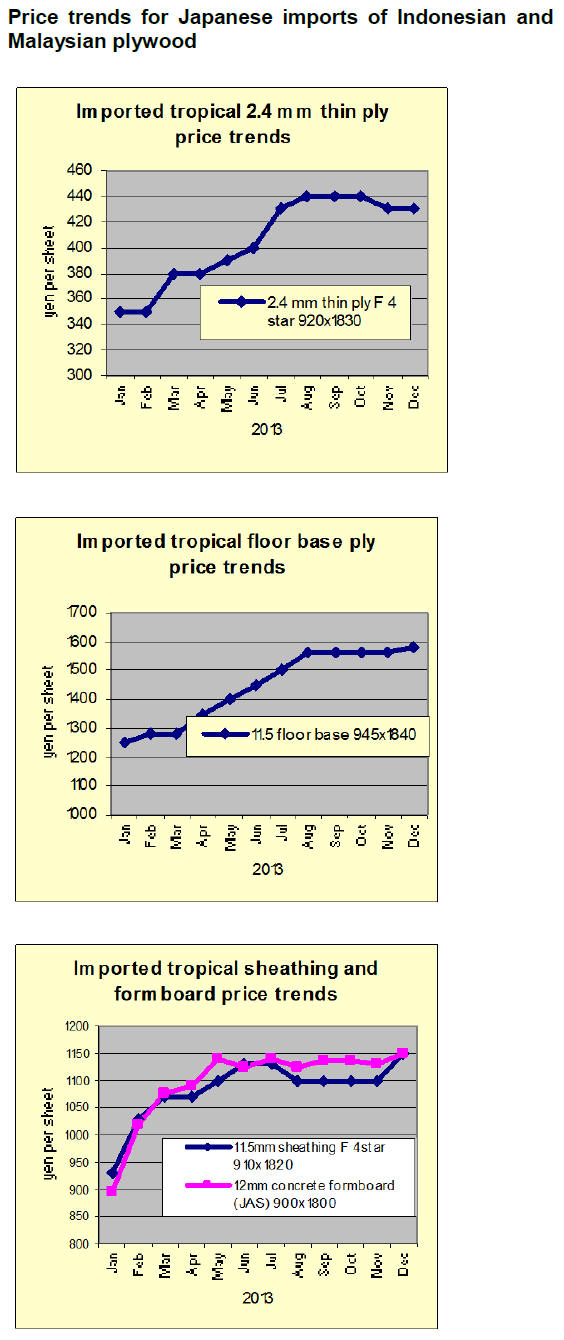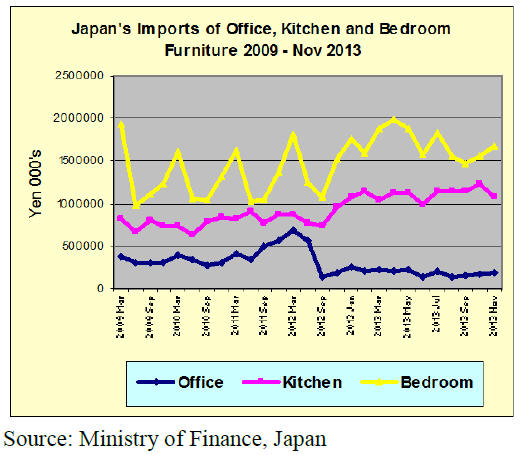 Office furniture imports (HS 9403.30)
In November 2013 Japan"s imports of office furniture
increased by 9.5% marking the third consecutive increase
since September.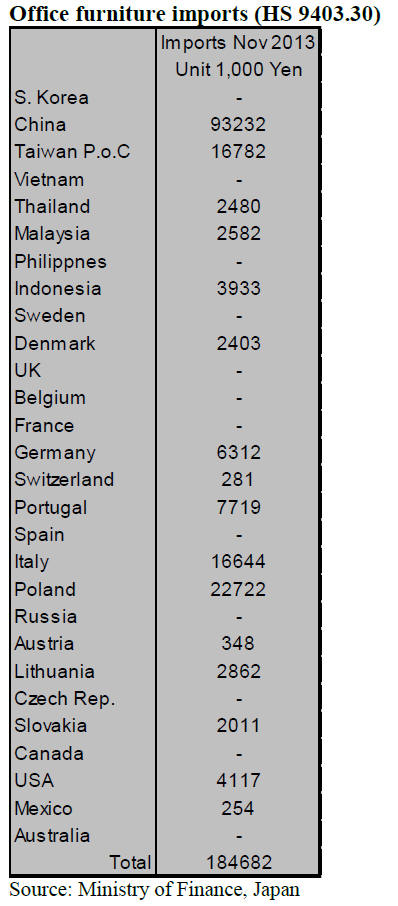 The top supplier remains China which provided 50.5% of
all November imports, marginally down from the 52%
supplied in October. The three main suppliers in
November were China, Poland and Taiwan P.o.C which,
together, accounted for 72% of all office furniture imports.

There were several winners in November including China,
Poland (for which imports doubled) Taiwan P.o.C, and
Italy. Suppliers in the US doubled exports in November as
did shippers in Poland. The main losers in November were
S. Korea, Malaysia, where exports halved, and Slovakia.

Kitchen furniture imports (HS 9403.40)
Asian suppliers notably Vietnam, Indonesia, China and
Philippines continue to provide the bulk of the kitchen
furniture imported by Japan according to figures from
Japan"s Ministry of Finance. November kitchen furniture
imports, at yen 1,080,259 mil., were down by 12% on
levels in October. Overall, suppliers in Asia provided
88.7% of Japan"s kitchen furniture imports in November.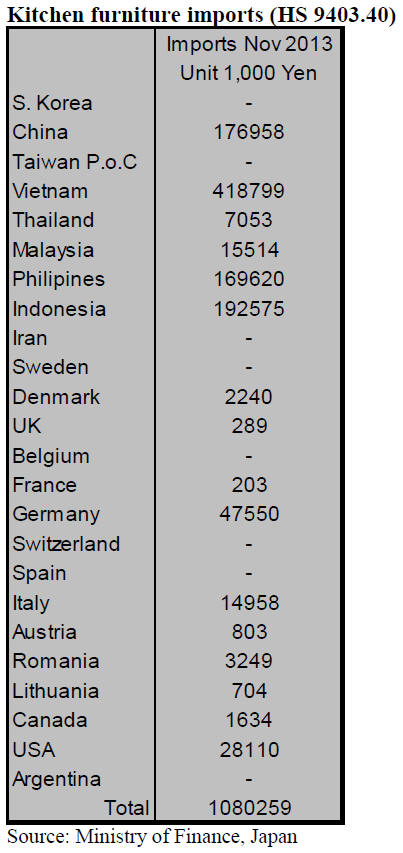 Vietnam maintained its position as the number one
supplier of kitchen furniture by a significant margin
supplying 39% of Japan"s kitchen furniture imports but the
November import figures show a slight decline in imports
from Vietnam.

The other main suppliers were Indonesian (17.8%), China
(16.4%) and Philippines (15.7%).

Japan"s imports of Kitchen furniture from Indonesia fell
slightly but other SE Asian exports suffered significant
declines with imports from Thailand and Malaysia down
by half and imports from the Philippines down by around
25%

November imports from Italy jumped three fold but still
represent just a small part of Japan"s overall imports of
kitchen furniture. The only significant EU supplier of
kitchen furniture in November was Germany where
imports doubled.

Bedroom furniture (HS 9403.50)
Japan"s imports of bedroom furniture in November rose to
yen 1,672 mil. up by over 7% on levels a month earlier. in
October. The November increase marks the third
consecutive increase since mid 2013.

Once again China topped the table of bedroom furniture
suppliers to Japan, providing some 58% of all bedroom
furniture. Together China, Vietnam and Malaysia
accounted for most (89%) of all bedroom furniture
imports.

The rise in overall imports of this item was largely due to
increased supplies from China, Malaysia, Slovakia and the
US.